Tulsa businessman Kevin Stitt announced today his candidacy for the 2018 Oklahoma Gubernatorial race. The first-time candidate is founder and CEO of Gateway Mortgage Group (GMG).
"I am excited to announce my candidacy for the office of the Governor of Oklahoma. I'm not a politician, but I feel I have the qualifications and leadership skills to bring Oklahoma to the top, where we should be," stated Stitt.
"This campaign is about growth.  I built my business; now I want to grow our economy and give teachers the tools they need to make our schools and children successful. Our state's problems are too large to ignore. I'm running for governor because I believe we need new leadership to turn our state around."
Stitt founded GMG in 2000. GMG is one of the nation's largest privately held mortgage companies and employs more than 1,100 people providing mortgage services in 40 states. Since 2012, Gateway has been recognized 17 times for its success, growth and corporate culture. Gateway is expected to originate more than $6 billion in mortgage loans this year, while its servicing portfolio will eclipse $14 billion. Approximately 100,000 customers are expected to receive mortgage services from Gateway Mortgage Group in 2017. GMG has grown under Stitt's leadership by implementing five pillars of success and feels he can do the same for Oklahoma.
"I can bring the unique ideas we use at Gateway and apply them at the state level to fix our budget, grow our economy and improve education. For 17 years, I have worked tirelessly to grow and strengthen not only the lives of families at Gateway but also the families of our customers. Now I want to do the same for the citizens of Oklahoma," said Stitt. "I have traveled the country and see the momentum other states are getting, and I know Oklahoma can do better. I want to see Oklahoma grow and prosper. As a person who has built a business, I think I can lead the state by improving our education system and helping businesses create jobs."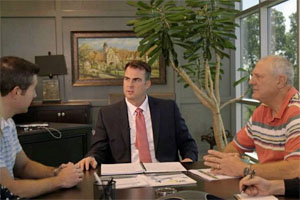 Stitt grew up in Norman. He received an accounting degree from Oklahoma State University. After moving to Tulsa, Stitt worked in the financial services sector before ultimately starting GMG. He and his wife, Sarah, have been married for 19 years and have six children. They attend Woodlake Church in Tulsa.
"Over the next year, I am going be traveling the state so I can talk to and learn from Oklahomans from all walks of life. I want to hear their thoughts on education and economic development. Oklahomans will see I am the only candidate in this race who has the business experience to make the necessary changes so Oklahoma can be number one."