Updated: Civic authorities are reporting this morning that over 527 people have been injured and transported to hospitals and over 59 murdered by a gunman firing automatic weapons from the 32 floor of a hotel into a concert crowd estimated over 20,000 in Las Vegas last night.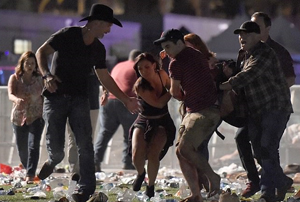 It was the final day, last performer, last song of a three day Country Music concert in the heart of the city.
This massacre of innocents is the worst mass shooting in modern American history.
Strangers helped each other find cover and transport the injured as the horrific killing fire rained down.
Police say the shooter was 64-year-old Stephen Craig Paddock, who opened fire on the festival taking place at Las Vegas Village from a room across the street in the Mandalay Bay Hotel at 10:08 pm.
Clark County Sheriff Joseph Lombardo said that his officers breached Paddock's room on the 32nd floor and found Paddock dead inside, among an 'arsenal' of 10 firearms. Lombardo said that Paddock shot himself dead.
Investigators are now raiding Paddock's home in a retirement community in Mesquite, which he shared with a woman named Marilou Danley. Danley was initially called a person of interest in the shooting, but police no longer believe she was involved after contacting her early Monday morning and finding her out of the country. Police say it appears Paddock used her ID when he checked into his hotel on September 28.
At least 10 rifles were found in Paddock's hotel room, where he had been staying for four days and had established two different shooting locations.
Paddock is not thought to have been part of any terror group, but Islamic extremists have claimed online in the early hours that he was a recent convert.
Police in his home town of Mesquite say that they had no history with Paddock.
President Trump tweeted early this morning, "My warmest condolences and sympathies to the victims and families of the terrible Las Vegas shooting. God bless you!"
Singer Jason Aldean who was the performer on stage as the firing began posted on Instagram: "Tonight has been beyond horrific. I still don't know what to say, but wanted to let everyone know that Me and my Crew are safe.
"My Thoughts and prayers go out to everyone involved tonight. It hurts my heart that this would happen to anyone who was just coming out to enjoy what should have been a fun night."
Click here for more from The DailyMail.com.
Click here for more from Fox News.
Fox News reports, "The gunman's brother, Eric Paddock, told reporters outside his Central Florida home early Monday "an asteroid just fell on us," and said Stephen Paddock has no history of mental illness.
The Department of Homeland Security said Monday morning that the department is "closely monitoring" and helping partners investigate the tragedy, but at this time has "no information to indicate a specific credible threat involving other public venues in the country."