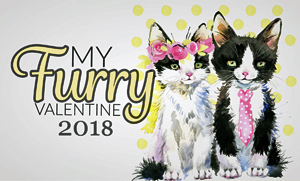 Cat lovers, mark your calendars for Sunday, Febrary 11th, 2018 as StreetCats will hold its 18th annual event "My Furry Valentine" at the Tulsa Historical Society.
"My Furry Valentine" helps fund StreetCats' Adoption Center and a spay and neuter program for un-owned cats.
Reservations can be purchased in advance at www.streetcatstulsa.org, by mail, or in person at the StreetCats' facility for $35 per person or $60 per couple. On the day of the event, the entrance fee will be $40 per person or $65 per couple.
StreetCats has been making a difference in the community since 1997.  In 2017 alone, 983 spay/neuter vouchers were distributed by StreetCats and 71 cats were adopted.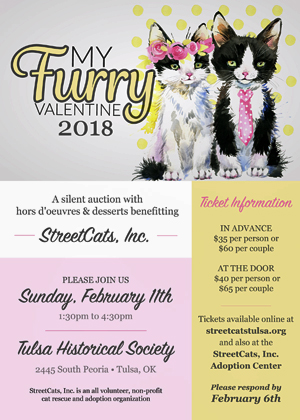 This event will have something for everyone. Food and drink samples will be available from some of the area's finest restaurants with a Wine Pull and in a Silent Auction including artwork, jewelry, and various gift baskets donated by local businesses.
A raffle will also be held. If you would like to donate a product or service for the event, please contact StreetCats at 918.298.0104 or email cats@streetcatstulsa.org. Every donation is tax-deductible.
Your donations truly help local cats and StreetCats is thankful for all support. Please join fellow cat lovers for the fun event or think about donating if you cannot attend this year!
StreetCats, Inc. is a non-profit, all-volunteer, organization whose purpose is to shelter cats that have been abandoned or lost and to find new homes for them.
• We do not place a time limit on a healthy cat's life and we keep them until a home is found.
• StreetCats' Adoption Center provides a clean, healthy environment for the cats with all on-going medical care, including sterilization, vaccinations, and testing prior to adoption.
• Donations also help maintain an aggressive spay/neuter voucher program, "A Stitch in Time," for "un-owned" cats. Our joint effort with local veterinarians lets us issue an average of 90 vouchers or more per month to help reduce the cat population on the streets of the Tulsa area.
• StreetCats' Gift Boutique at the Adoption Center helps fund the organization.
StreetCats, Inc. receives no public funding but relies solely on donations. Staff is an entirely volunteer crew so monies received are applied directly to the care of cats.