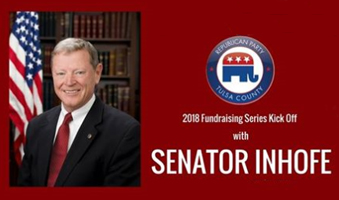 The Republican Party of Tulsa County celebrated President Donald Trump's remarkable success at a luncheon Friday at the Warren Place hotel with Oklahoma Sen. James Inhofe (R-OK) and over a hundred of his local friends. He may also be seen this Sunday on a C-SPAN "Newsmakers" interview at 9 am online now.      
Sen. Inhofe, of the Senate Armed Services Committee, talks on C-SPAN about how Continuing Resolutions (CRs) affect military planning, the nation's key defense needs, military readiness and more.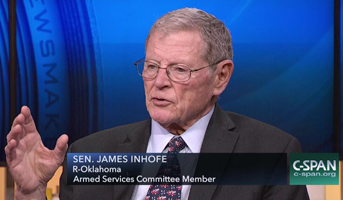 Sen. Inhofe said about Sen. John McCain, Chair of the Senate Armed Services Committee:  "Obviously during his recovery period he can't be here for these and you can't stop everything now so … he's calling the shots and I'm showing up."
The 30 min. interview Sunday at 9 am CT on C-SPAN is already available online – click here for the video.