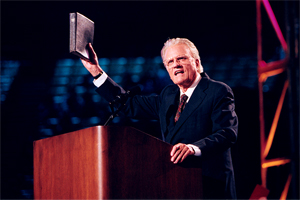 The world's best-known evangelist, Rev. Billy Graham, has died. He was 99 years old and beloved worldwide.  In Oklahoma we remember the prayer service after the Oklahoma City bombing, April 23, 1995 when he said: "Some of you today are going through heartache and grief so intense that you wonder if it will ever go away, but I want to tell you that our God cares for you and for your family and for your city. God loves you and he shares in your suffering."
From the gangly 16-year-old baseball-loving teen who found Christ at a tent revival, Graham went on to become the most recognized Apostle of Christ in the modern world, a preacher to a dozen presidents and a cherished voice of solace during national heartbreak. He was America's pastor.
Graham retired to his mountain home at Montreat, N.C., in 2005 after nearly six decades on the road calling people to Christ at a total of 417 preaching and musical events from Miami to Moscow. His final New York City crusade in 2005 was sponsored by 1,400 regional churches from 82 denominations.
The BBC offers a powerful obituary today to the man some in Britain first wanted to ban:
Following success in his ministry in the US, Graham wanted to take his message worldwide and he began the process in London in 1954.
It was a calculated risk. At the time only 10% of Britons were regular churchgoers, compared with 50% in the United States.
He also faced a hostile British press, which was scathing about the motives of the man from Charlotte, and he faced calls from one MP for him to be banned from entering the UK
He conducted his first full-scale mission in a 12,000-seat auditorium next to a greyhound track at London's Harringay Arena.
Such was the demand to hear him that he filled the arena every night for three months.
The final meeting of his UK crusade was held at Wembley Stadium, when 120,000 people heard Graham speak of the reception he had received in London.
"These meetings have been far beyond anything we had the faith to believe possible," he told the crowd. "The spirit of God is moving across Great Britain as perhaps at no time in the last century."
Click her for more from the BBC.com.
For famous quotes by Billy Graham, click here.
"I've read the last page of the Bible," Rev. Graham said. "It's all going to turn out all right."