Reigning ACM Male Vocalist of the Year Thomas Rhett unveiled his "Life Changes" Tour at Tulsa's BOK Center Thursday night before an enthusiastic crowd of both new and longtime fans.
Taking the stage wearing all black except his white sneakers, the Georgia native thrilled the audience.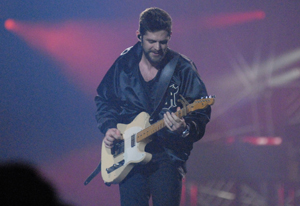 His youthful energy impressed as he performed songs from all three studio albums, including his early hit, "It Goes Like This."
From the main stage, Rhett walked up and down a walkway that stretched to the center of the arena floor, thrilling fans gathered on both sides as he shook their hands, as well as grabbing cell phones and snapping selfies as he performed.
As he sang "Sweetheart," which he dedicated to fans who were born in the ' 50's, he made his way through the fans on the floor to a small stage set up at the back of the arena where he performed several songs, including "Round Here' which he wrote for the country duo Florida Georgia Line.
"This is a bucket list item for me, headlining this place," he told the crowd.
In his previous BOK Center appearances he was the opening act for Miranda Lambert, Dierks Bentley, Florida Georgia Line and Jason Aldean.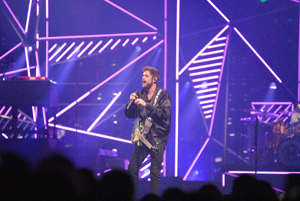 Closing the set from the mini-stage, Rhett performed a heartfelt acoustic version of "Star of the Show," which was written for his wife, who he has known since first grade.  When he made it back to the main stage, Rhett sat down in front of a drum kit, showing his versatiliy on the upbeat, "vacation."
Besides Rhett's strong vocals, a talented backing band and seemingly endless energy, the use of smoke cannons and multiple lighting sets completed the concert experience worthy of a headliner tour and a star that has arrived to stay.