Music performance times and onsite experiences have been announced for Rocklahoma, presented by Bud Light, May 25, 26 & 27, 2018 at "Catch the Fever" Festival Grounds in Pryor, Oklahoma, just outside Tulsa.
America's Biggest Memorial Day Weekend Party celebrates its 12th year with performances from top rock artists including Poison, A Perfect Circle, Godsmack, Cheap Trick, Ghost, The Cult, Halestorm, Vince Neil, Stone Temple Pilots, I Prevail, Clutch, The Used, Underoath, Machine Gun Kelly, Cinderella's Tom Keifer and many more. 
The three-day camping festival features the best new rock artists and classic bands performing on four stages, with music going all night long. The weekend kicks off with the annual Rocklahoma campground party.
The daily schedule for Rocklahoma is as follows (subject to change):
Thurday, May 24 (Campground Party)
Axis Campground Stage
6:00 PM
Wither
6:50 PM
Honor Amongst Thieves
7:40 PM
Ryder
8:30 PM
Weston Horn & The Hush
9:20 PM
One Step From Falling
10:20 PM
Save The Hero
11:20 PM
As Above So Below
12:20 AM
Dark Avenue
1:20 AM
Screaming For Silence
Friday, May 25
Bud Light Stage
River Spirit Casino Stage
3:30 PM
Trivium
2:15 PM
Everybody Panic
4:30 PM
Sevendust
3:00 PM
Big Story
5:10 PM
Miss Rocklahoma
4:00 PM
Andrew W.K.
5:55 PM
I Prevail
5:20 PM
Soil
7:15 PM
Stone Temple Pilots
6:40 PM
Red Sun Rising
8:55 PM
The Cult
8:20 PM
Yelawolf
10:45 PM
A Perfect Circle
10:00 PM
The Used
Retro Stage
Axis Campground Stage
3:00 PM
Joyous Wolf
12:00 PM
Dirty Blvd
4:00 PM
Cimino
12:50 PM
Dirty Soul Revival
5:10 PM
Down For Five
1:40 PM
City Of The Weak
6:40 PM
Chaotic Resemblance
2:30 PM
Framing The Red
8:20 PM
Firstryke
11:50 PM
KillSET
10:00 PM
ASKA
12:40 AM
Silent Theory
12:00 AM
The Midnight Devils
1:30 AM
Dead Horse Trauma
Saturday, May 26
Bud Light Stage
River Spirit Casino Stage
3:30 PM
Shaman's Harvest
3:00 PM
Wayland
4:30 PM
Pop Evil
4:00 PM
Like A Storm
5:50 PM
Clutch
5:15 PM
Powerman 5000
7:10 PM
Vince Neil
6:35 PM
Butcher Babies
8:50 PM
Ghost
8:15 PM
Diamond Head
10:40 PM
Godsmack
9:55 PM
Underoath
Retro Stage
Axis Campground Stage
3:00 PM
T.R.O.Y.
12:00 PM
Stanley's Revenge
4:00 PM
Wild Planes
12:50 PM
Saint Monroe
5:15 PM
LA Velvet
1:40 PM
Duel
6:35 PM
Black Tora
2:30 PM
Renegades
8:15 PM
War Of Thrones
11:50 PM
The Maension
9:35 PM
Dead Girls Academy
12:40 AM
Maplerun
12:00 AM
Dead Metal Society
1:30 AM
Hallow Point
Sunday, May 27
Bud Light Stage
River Spirit Casino Stage
3:30 PM
10 Years
3:00 PM
Basses Loaded
4:30 PM
Candlebox
4:00 PM
Well Hung Heart
5:50 PM
Tom Keifer
5:15 PM
Nonpoint
7:10 PM
Halestorm
6:35 PM
Lynch Mob
8:40 PM
Cheap Trick
8:05 PM
Adelitas Way
10:30 PM
Poison
9:45 PM
Machine Gun Kelly
Retro Stage
Axis Campground Stage
3:00 PM
A Brilliant Lie
12:00 PM
Bringer
4:00 PM
Mind Of Fury
12:50 PM
Jenny Wood
5:15 PM
Coda Cutlass
1:40 PM
Oddfellas
6:35 PM
Maxx Explosion
2:30 PM
The Grizzly Band
8:05 PM
Heaven Sent
11:50 PM
Ten Thousand One
9:45 PM
Davey Suicide
12:40 AM
Shallow Side
12:00 AM
Love N Revenge
In addition to music and camping, Rocklahoma offers fans a variety of onsite experiences, including:
Bud Light: As you're rocking out at Rocklahoma, make sure you grab some cold Bud Lights. With Bud Light, you're not just drinking beers, you're building friendships. We can't wait to return to the country's biggest music festival! Share your Bud Light Music Moment with us! #BudLightMusic #drinkresponsibly
Website: www.budlight.com
Facebook: www.facebook.com/budlight
Instagram www.instagram.com/budlight/
Twitter: https://twitter.com/budlight
 Monster Energy: Stop by the Monster Energy viewing deck to refuel and meet some of your favorite Rocklahoma artists! Monster Energy will be keeping everyone fueled up and ready to rock by offering free sampling on their Monster Energy viewing deck. Enjoy Monster Energy drinks from one of the best seats in the house. Make sure to check back throughout the festival for a schedule of Monster Energy's interactive artist experiences. Most companies spend their money on ad agencies, TV commercials, radio spots and billboards to tell you how good their products are. At Monster Energy, we chose none of the above. Instead we support the scene, our bands, our athletes and our fans. We back athletes so they can make a career out of their passion. We promote concert tours, so our favorite bands can visit your hometown. We celebrate with our fans and riders by throwing parties and making the coolest events we can think of a reality.
Website: www.monsterenergy.com/us/en/music
Facebook: www.facebook.com/monsterenergy
Instagram: www.instagram.com/monsterenergy/
Twitter: https://twitter.com/monsterenergy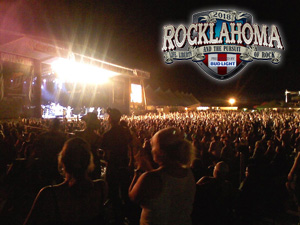 Zippo: Zippo Encore will be back in action at Rocklahoma with a full stock of Zippo lighters, including the limited edition festival designs! Come by and spin their  wheel for great prizes, enter their Zippo Custom art contest, and get your Zippo lighter filled for free. Be sure to go see them early every day, you could get access to some of the best "seats" in the house, the Zippo Hot Seat!
Website: www.zippo.com
Facebook: www.facebook.com/zippoencore
Instagram: www.instagram.com/ZippoEncore/
Twitter: https://twitter.com/ZippoEncore
River Spirit Casino: River Spirit Casino can't wait to rock out with fans at Rocklahoma 2018! Stop by our Rocklahoma Courtyard to kick back with a cold drink & enjoy the River Spirit Casino Stage artists. The brand-new River Spirit Casino and Hotel is Rocklahoma's official Play & Stay destination!
Website: www.riverspirittulsa.com
Facebook: www.facebook.com/riverspirit777
Twitter: https://twitter.com/tulsascasino
 D&B Processing: Don't miss a favorite Rocklahoma tradition, the Miss Rocklahoma Pageant, brought to you by D&B Processing. See the 2018 winner crowned at 5:10pm on Friday night at the Bud Light Stage.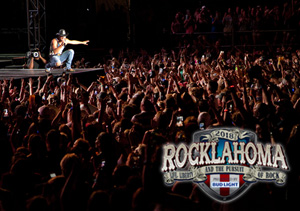 SWFTCharge: SWFTCharge provides an ultra convenient phone-charging service for live music events. How it works: attendees purchase the charging service at one of the SWFTCharge booths and receive a "SWFTCharger" to charge their phone. Once the "SWFTCharger" is dead, it can be swapped for a new one as many times as customers want while they are at the event. By eliminating charging pads, wires and lockers we're aiming to provide attendees with a service that is convenient, frictionless and untethered.
Website: http://swftcharge.com/
Facebook: https://www.facebook.com/swftcharge/
With onsite camping amenities and unparalleled VIP packages, Rocklahoma lives up to its motto of "Life, Liberty & the Pursuit of Rock." In 2017, Rocklahoma had its biggest year ever, with over 75,000 in attendance.
Fan voting for the annual Miss Rocklahoma competition has ended, and the Top 5 finalists have been chosen. The winner will be crowned Miss Rocklahoma 2018 onstage at Rocklahoma on Friday, May 25 at 5:10 PM.
Rocklahoma General Admission and VIP tickets, as well as Premier Packages, Hotel Packages and Camping options, are on sale now. Limited quantities of Groupie and Roadie VIP Packages are also still available. The Rockstar Package is SOLD OUT. Please visit http://rocklahoma.com/tickets.html for details. General Admission and VIP camping is also available at checkout, by calling (866) 310-2288, or emailing info@rocklahoma.com.
The campgrounds are a unique part of the Rocklahoma experience, with an endless party running around the clock. The Rocklahoma campgrounds will be open from Sunday, May 20 at Noon CDT through Tuesday, May 29 at Noon CDT. Festival doors open at 2:00 PM daily on May 25, 26 and 27. Note: Camping is only available with weekend ticket purchases.
Rocklahoma is produced by AEG Presents and is part of the World's Loudest Month concert series, which features the biggest names in rock music performing in six U.S. events in distinct atmospheres during five consecutive weekends in April and May of 2018.
Rocklahoma is located just 45 minutes northeast of Tulsa, in Pryor, OK. The "Catch the Fever" Festival Grounds is a premier destination for a multi-day festival and includes onsite camping with access to restrooms and shower house, a general store for campers, VIP reserved seating, hospitality areas and much more.
Rocklahoma is supported by our rockin' partners, including Bud Light, Monster Energy, Zippo, River Spirit Casino, D&B Processing, SWFTCharge, Chevrolet, Island Noodles, F*ck Cancer and more.
For more information on Rocklahoma:
Website: www.Rocklahoma.com
Facebook: @Rocklahoma
Twitter: @Rocklahoma
Instagram: @Rocklahoma
#ROCKLAHOMA
AEG Presents is one of the largest live music companies in the world. The company is dedicated to all aspects of live contemporary music performances, including producing and promoting global and regional concert tours, music events and world-renowned festivals. AEG Presents operates in North America, Europe and Asia through 16 regional offices that support its tours, which include such artists as Taylor Swift, Paul McCartney, The Rolling Stones, Justin Bieber, Katy Perry and Kenny Chesney; produces or supports over 25 music festivals, including the iconic Coachella Valley Music & Arts Festival; and owns, manages or books more than 60 clubs and theaters. AEG Presents produces more than 8,000 shows annually worldwide and conducts business under such globally renowned brands as AEG Presents, Goldenvoice, Concerts West, Messina Touring Group, Marshall Arts LTD, and Madison House Presents. Click here for more www.aegpresents.com