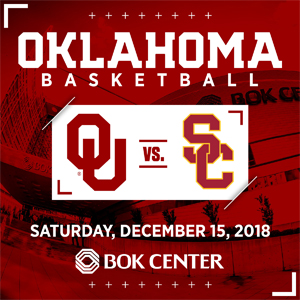 The Oklahoma Men's Basketball team will face the USC Trojans at the BOK Center on Saturday, December 15 for a neutral site game.
The two teams faced off in the same non-conference, off campus game last year in Los Angeles at Staples Center on December 8, 2017 with the Sooners winning 85-83. The Sooners ended the 2017-2018 season 18-14 overall and lost in overtime in the first round of the NCAA tournament to seven seed Rhode Island. Tickets go on sale Friday, May 25 at 9 AM.  
Tickets are also available online at www.bokcenter.com, Arby's Box Office at BOK Center, or by calling 1-866-7-BOKTCTR. *Tickets will NOT be available for purchase at the Arby's Box Office at BOK Center on the first day of ticket sales. Remaining available tickets will be available for purchase at the BOK Center Box Office on the next business day that the box office is open.
Though the game is separate from the season package, OU season ticket holders will have the option to add the game to their package when season ticket renewals start on May 30 through July 13.
"We are excited to welcome the Sooners and Trojans back to Downtown Tulsa," said Jeff Nickler, BOK Center General Manager.
"This arena was built to host world-class entertainment and marquee sporting events and we are looking forward to hosting the student athletes, alumni and fans from these prestigious Big 12 and Pac 12 institutions."
The Sooners are coming off a trip to the 2018 NCAA Tournament and will return four of their top six scorers on a team highlighted by seniors Christian James, Rashard Odomes and Jamuni McNeace.
Head coach Lon Kruger is in his seventh campaign as head coach of the Oklahoma Sooners and 32nd season of coaching college basketball. Kruger, who has been leaving his trademark rebuilding stamp on college basketball programs throughout his career, is the first Division I coach to ever take five different schools to the NCAA Tournament. In 2015 he became the first coach since the NCAA Tournament expanded to 64 teams in 1985 to take four programs to the Sweet 16 or beyond.
Oklahoma's complete schedule, with non-conference games, will be announced at a later date.
The BOK Center will be a host site for First and Second round of the 2019 NCAA Men's Basketball tournament.