You won't believe the shocking conditions in which children are being held at President Donald Trump's concentration camps, aka "Don's Death Camps!" It seems good may be breaking out contrary to the crocodile tears of Opposition Media.
While Democrats demagogue (use of popular prejudices, false claims and promises to gain power) ignoring family separation over decades in all criminal proceedings, the invading children are not harmed. 
For example Casa San Diego houses 65 boys between the ages of 6 and 17. About 10 percent of the boys were separated from their parents by the U.S. government, according to Gerardo Rivera, associate vice president of immigrant children's services for Southwest Key Programs, the nonprofit that runs the shelter.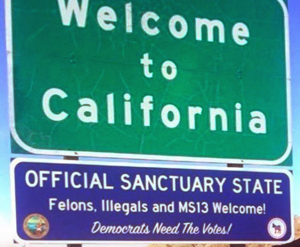 Rivera downplayed the difficulties that family separation has brought to the shelter, saying that Southwest Key — which operates 27 shelters in California, Arizona and Texas — is used to dealing with kids who are upset or traumatized for a number of reasons, including gang violence in their home countries.
"This is not a new thing for us in the shelters," he said. "These kids come in and they're traumatized from a long time ago."
Rivera said even the boys at the shelter who crossed the border alone are dealing with family separation anxieties because some of them lost parents to crime in Central America or had to say goodbye to loved ones at home.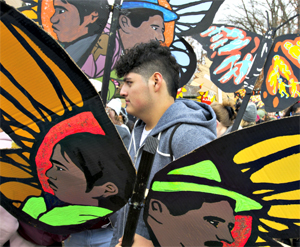 The Department of Homeland Security transfers children to the Department of Health and Human Service's Office of Refugee Resettlement, which places them in shelters like Casa San Diego. Shelters proliferated after 1997, when the Supreme Court ruled that immigrant minors could not be held in detention like adults. Case managers at the shelters try to find sponsors or foster care for the children, with an 1:8 ratio of case managers to children.
On Friday, a group of boys played soccer on a small blacktop area sandwiched by two beige one-story buildings of the shelter. Another group read picture books and novels in a classroom. When journalists entered the room, the teacher had the boys recite "good morning" in Spanish, Portuguese and other languages.
The boys stay three or four to a room on twin-sized beds with one bathroom per room, with lights out at 9 p.m. Their walls are decorated with sketches and printouts, including images of Jesus Christ's crucifixion and typed quotes such as "When you are sad, just think that for God you are special."
Click here for more from KPBS.
DHS Secretary Kirstjen Nielsen set much of the record straight on Monday on who these children are and how they became "separated."
NIELSEN: So I want to be clear on a couple of other things. The vast majority, vast vast majority of children who are in the care of HHS right now — 10,000 of the 12,000 — were sent here alone by their parents. That's when they were separated. So somehow we've conflated everything. But there's two separate issues. 10,000 of those currently in custody were sent by their parents with strangers to undertake a completely dangerous and deadly travel alone. We now care for them. We have high standards. We give them meals, we give them education, we give them medical care. There's videos, there's TVs, I visited the detention centers myself.