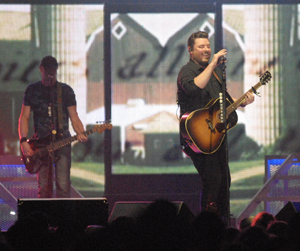 On a September Saturday when two of the three state major college football teams were playing home games, one might expect a few empty seats inside Tulsa's BOK Center for a concert, but that wasn't the case.  A capacity crowd welcomed country singer Chris Young with opening acts Kane Brown and Australia native Morgan Evans. Young, who won the 2006 "Nashville Star" reality competition on USA Network is touring in support of his latest album, "Losing Sleep." 
The affable singer opened his set with the album's title track and for the next 90 minutes or so entertained his audience with powerful ballads, dazzling light show and backed by flawless musicians.  Some performers have difficulty connecting with a live audience, Young mastered it from the outset and even offered up a couple of surprises on Saturday night.
Three songs into his set, Young paused to introduce retired General Leroy Sisco of the Military Warriors Support Foundation and together they awarded Oklahoma native and Purple Heart recipient Cody Derryberry a mortgage-free home and three-year financial mentoring program.  Also supporting the program are Dr. Pepper and Wal-Mart.
Prior to performing "Getting' You Home," Young told the crowd that he added a phrase to that song, ("The Black Dress Song") in part due to fan reaction to a single phrase, "seeing your black dress hit the floor."
Cassadee Pope made an appearance on the large video screen to perform "Think of You," the duet she sang with Young.
Young spoke to those inside the arena throughout the evening and at one point said, "I'm talking a lot more than I normally do, "I'm just loving the hell out of this tonight."  Since no country music show would be complete without at least one reference to drinking beer, Young took the opportunity to perform "Save Water, Drink Beer."  Young also paid tribute to Keith Whitley by performing the late singer's "When You Say Nothing At All," adding that it was the first song he learned to play on guitar.
Before giving way to headliner Young, 24 year-old Kane Brown played a dozen-song set, beginning with "Found You," "Hometown" and "Used to Love You Sober."  Brown was greeted warmly when he came onstage and returned the favor as he paced across the stage, acknowledging audience members in every section of the arena.
As he introduced "Learning," also known as "Let It Go," Brown bared his soul as he shared that he was raised by an 18 year-old single mother and later the abuse he endured from his step-father.
Australian singer-songwriter Morgan Evans, who now resides in Nashville with wife Kelsea Ballerini, stepped onto the BOK Center stage promptly at 7:30 carrying his guitar.  Showing just what cool under pressure really means, he and a technician spent approximately 10 minutes trying to fix an issue with a loop machine that allows Evans to perform alone.
Once it was repaired, Evans exclaimed, "I'm Morgan Evans and I'm a professional!"  With that, Evans played a 20-minute set which included "Day Drunk" and "Kiss Somebody."
Photos and story by William Tessier and Greg Duke, Tulsa Today