Nolan Peterson delivers a powerful first person account of traveling with the Migrant Caravan now headed to America that captures sentiment and propaganda, but not the cost of new unskilled workers who drive wages lower for citizens, risk social services and destabilize economy.
From this report published by The Daily Signal; the caravan is a direct result and deliberate contrivance of open border activists who declare peace, but deliver threats.
Titled, "'It's Your Right to Go to the US': What I Saw When I Visited the Migrant Caravan" Peterson provides quotes of participants that even media egotists should understand as an "invasion" threat. It is a long piece well worth the time to read, but here are a few highlights.
The migrant caravan has its own de facto government, and on this night the travelers from Central America gathered at the behest of a few leaders to discuss issues of the day as well as the big picture—such as what route to take to the U.S. border.
"It's your right to go to the U.S.," Milton Benitez, a political analyst and sociologist who hosts the Honduran TV show "El Perro Amarillo," implored the impassioned crowd.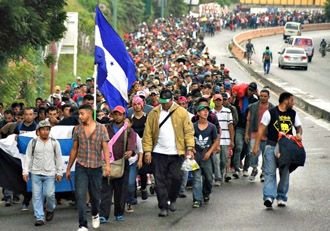 In a scene not unlike when a coach rallies his players before a big game, the Honduran media figure pressed the encircling migrants on the night of Nov. 7 not to give up on their "mission" to achieve the U.S. border.
The large group ensconced last week in Mexico's capital was the foremost and largest of five migrant caravans traversing the nation and headed north. Altogether, they comprise roughly 12,000 people, mainly from the three Central American countries of El Salvador, Guatemala, and Honduras.
Gabriella, a 20-year-old woman from Honduras, sat on a steel blue sleeping pad with her 11-month-old daughter Ayesha cradled in her arms. Mother and child were encamped on the grounds outside the Jesús Martínez Palillo soccer stadium along with roughly 4,500 other migrants. "We're here for lack of work," said Gabriella, who asked that her last name not be published.
Peterson writes further that "hidden hands" are moving people north.
"These caravans are very well orchestrated," said one Mexican official, who asked not to be named. "We've seen signals that there is money. The signals are different from the typical flow of migrants."
Benitez, the Honduran television personality, is also a member of Pueblo Sin Fronteras, or People Without Borders, according to Mexican news reports.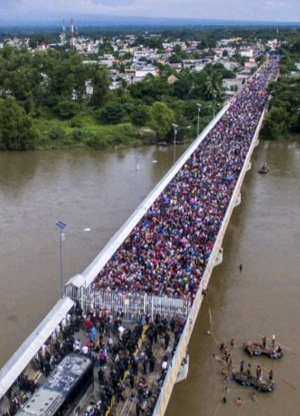 People Without Borders is a Chicago-based nonprofit that has organized multiple migrant caravans aimed at the U.S. border. The nonprofit notably organized a caravan of Central American migrants in April known as the Migrants' Way of the Cross…
The group's influence was on full display during the raucous nighttime assembly Nov. 7. The nonprofit's organizers urged migrants to press on and offered seminars to prepare them for questions at the U.S. border from officials charged with verifying asylum claims.
Of the 4,500 migrants encamped last week in Mexico City, U.S. and Mexican officials estimated, roughly 60 percent were men, 30 percent women, and 10 percent children….
Darly Maria Galeas Amaya, 27, from Comayagua, Honduras, said, "My dream isn't to stay in Mexico … my dream is to get to America to be able to, I imagine, to be able to give a better life to my children," said Amaya, traveling with her husband and 9-month-old son.
"Yes, there's the option to stay in Mexico, but the destination we're heading for is the United States," said Wilson Gomez Portillo, 23, traveling with his wife from Siguatepeque, Honduras. "They do offer us refuge here, but we don't want to stay."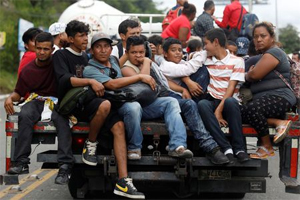 "They say the [U.S.] border is guarded and they won't let immigrants like us pass, but we have to show them from our hearts that we don't have jobs or anything, right?" Portillo said. "And we're simply coming to work. We're not going to commit crimes or anything like that."
An American immigration lawyer named Javier, who asked that his last name not be published, said the migrants are wary. "They don't trust anyone," Javier said. "They're very skeptical of what they hear from anyone other than organizers or their families. They think the Mexican refugee status offer was a trick, because the organizers told them so."
Nancy Cruz, 29, traveling from La Paz, Honduras, said "Imagine, we've been traveling for over a month, and we've still got a long way to go. And for them to tell us we can't go in and all that once we get there would be an injustice."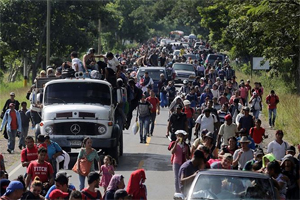 A group of American immigration lawyers circulated in the encampment in Mexico City, easily identified by orange and white baseball hats that said in Spanish: "I Support Asylum in the U.S."
Javier and  the other American lawyers were there as part of People Without Borders' effort to educate migrants about the U.S. asylum process. Some of the lawyers said they learned about the operation from group email lists.
David Inserra, a policy analyst for homeland security at The Heritage Foundation, traveled to Mexico City to observe the caravan firsthand.
"Based on the interviews I witnessed, most [migrants] do not have a valid asylum claim," Inserra said. "Most talked about wanting a better life, a job, or perhaps [getting] away from societywide criminality."