Rock icon and successful businessman Harrel C. "Buddy" Jones passed to the next adventure Sunday February 20, 2011 in Tulsa, the city of his birth.  Buddy liked people and cared for many who loved him and he enjoyed their company.  His junior year at Rogers High School, several friends began to play "new music" and Buddy decided he should play.  As he often told the story, "there were a number of guitar players around already and I didn't really want to take piano or horn lessons, so I decided drums were the thing to do."
As a fellow drummer, I was always impressed by the tale.  His mom bought him a drum set on credit Buddy later paid off on time and as agreed.  However, the word had gotten around before the transaction and on the same day Buddy picked up the drum set, he got a call to work.
As Buddy told author Ted Blackwell, "Back in those days, if you had a set of drums, you were automatically a drummer.  There weren't very many bands around and the bands and the music were so spontaneous that almost anyone who played an instrument could join a band or was welcome to at least try.  Anyway, all of my friends knew I was getting this set of drums because I'd been bragging about it at school for days, so I guess the word got out and the day that I finally got them, I also got a phone call asking me to come play in a club that evening.  I told the guy that I didn't know how to play, but he said to come on anyway.  So, the next thing I knew, I was working."
As Johnny Cale detailed in the movie, "To Tulsa and Back, On Tour with J.J. Cale" Tulsa was booming with oil money and Tulsa based Bob Wills and the Texas Playboys began what Elvis soon refined – a blending of hillbilly and soul music.  The clubs were rowdy and the music reflected the inherent individualistic and risky business of oil and gas exploration with musical creations refined by immediate response from live crowds in dozens of clubs.
Buddy played that first night with the Wally Sewell Band, Lee Weir on guitar and Wally working vocals at the 400 Club on East Admiral.  As Buddy told Blackwell, "All of the songs were pretty basic back in those days, it's not like there were a lot of arrangements to deal with, and our song list wasn't that big, so after playing them over and over, three or four nights a week, for several weeks, I got to where I was feeling comfortable behind the drums."
Buddy joined Benny Ketchum's band and played regularly at the Cain's Ballroom, "Tulsa's Timeless Honky-tonk" back when it was new and the band provided back-up for many of the touring country stars as most traveled just with a guitar in hand.  Sometimes he was invited to go on the road.  During the short time he played for Ketchum, Buddy backed such stars as Red Sovine, Patsy Cline, Farron Young, Webb Pierce, the Louvin Brothers, Roy Acuff and Carl Smith, but Buddy was never really interested in country music.
Before he left Ketchum's band, Buddy got a call from Johnny Cale.  The two had played teenage "sock hops" together and Johnny asked Buddy to join him and Bill Raffensperger to play at the Casa Del Club at 11th and Sheridan Road.  They were known from that point as the Johnny Cale Trio.
Buddy told Blackwell, "After the Casa Del closed, usually around 2:00 am; the three of us would meet up with Chuck Blackwell and others at a restaurant, have breakfast and talk for a couple of hours.  Then we'd go back to the Casa Del, lock the doors and jam for several more hours … often until daybreak.  There would sometimes be a couple of dozen guys from different bands, and we'd all switch around so that everyone played, and hell, we all played the same music … what we call, I guess, the Tulsa Sound."
After a couple of years Buddy said, "Johnny got the bug" and headed for California.  A few months later, Buddy followed and he first worked with Jimmy Karstein in Los Angeles – playing together at the Gold Room in Bellflower.  Buddy caught some other jobs including a gig with a young Johnny Rivers and toured Minneapolis, New Orleans, and Las Vegas.
Buddy's world changed when he got drafted in 1963 and for the next two years, he played in the Army Band stationed in Germany.  He played big band jazz and learned a great deal about musical arrangements.  Once released from the army, Buddy returned to Tulsa to play with David Teegarden for a few weeks to get his "chops back" in the rock music he loved.
Buddy then returned to California and was hired by Leon Russell to be his personal manager for several years.  In 1967 Buddy returned to Tulsa and went into business for himself in retail.  He owned several businesses over the years most notably Maxie's Special Sizes with over 22 locations at one time.
Leon also returned to Tulsa and again asked Buddy to manage and promote his road tours.  During this time, Leon lived in the old McCintock mansion on 24th street in Tulsa and Buddy lived in the third floor apartment of the home.  Working both at the home and Church Studio with Leon's Shelter Records, Buddy discovered the GAP Band.
As Buddy described it to Blackwell, "One evening I was in a club in north Tulsa with some people, which was near the Church Studio, and the band that was playing absolutely had that entire joint rocking.
"They called themselves the GAP Band (The Greenwood, Archer and Pine Street Band) and I thought to myself, I gotta' get these guys into the studio…and quick!  So we got them into the Church Studio and started recording them, but realized everything they were doing were covers, that they had no original music.  So I told them that if they were going to record, that they needed original material.  It turned out that they were good at writing the music, but hadn't learned to write lyrics.  So, I produced their first album and Charlie Wilson and I wrote most of the songs.  After we started the sessions, Leon got interested in them and took them on the road to open for him."
In fact, Buddy wrote eight of the ten songs on that first GAP Band album and one of those "Easy Life" credits another Oklahoman with a long music history, Kay Poorboy.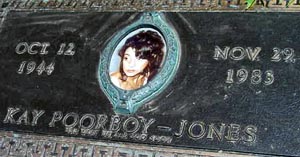 Buddy married Kay Poorboy a sweet petite Cherokee girl with a great voice that can be heard as a backup singer for Joe Cocker's version of "Cry Me A River" on his Mad Dogs and Englishmen album.  But those were the party days and Buddy told me that Kay would sometimes disappear for weeks then show back up at the house glad to be home.
Buddy told me he frequently would have to meet some doe-eyed-stud-puppy at the door with a shotgun to explain that Kay Poorboy-Jones was married. 
Kay had a daughter, Moon Poorboy, that Buddy adopted.  Kay was deeply depressed by the death of Carl Dean Radle one of the best bass players ever to play rock.  Carl and many other Tulsans helped launch Eric Clapton's career as a solo artist, but Carl liked drugs and when Clapton decided to stop doing drugs, he fired Carl.  Depressed, Carl overdosed in 1980 and three years later on November 29 1983, Kay Poorboy Jones took her own life with a bullet to her heart when her daughter was only eleven years old.  Moon's biological father is known as Dr. John, of New Orleans fame, but he was not around for Moon.
Buddy doted on Moon, enrolled her in the best schools, traveled the world and took her shopping in New York.  Buddy's parents, George and Doris Jones raised Moon as their own when Buddy's business took him out of town.  However, Moon for years practiced many of her mother's bad habits.  I met her in those dark days, but could not change or save her from herself.  That is how I met Buddy Jones, by introduction from his daughter.  Buddy told me Moon was a "handful he could no longer hold" and I soon agreed.  To her credit, Moon is now happily married and building a more sober successful life for herself and that was always Buddy's greatest wish for her.
Buddy told the Tulsa World in 2003, "I think musicians in every town think they're special.  But I look back and I see all the old musicians we used to play with, and everybody's still friends.  They're all real mellow, and they play mellow so mellow relationships followed naturally enough."
In October 1991 a friend from Grand Lake, Bob Spencer, called Buddy to meet him at a local club to hear Flash Terry play blues.  Spencer told Buddy that "Kelly" would also be with him and that name did not ring a bell.  Buddy thought Kelly was a guy, but finding that not to be the case, Buddy and Kelly danced all night.  Buddy said they fell in love dancing.  Their first "official" date was at the Celebrity Club.  In December for Kelly's birthday, Buddy took her to New York – their first of many trips together.
In April 1996 Buddy began what would become twenty great years when he married Kelly in the Cayman Islands.  They made a marvelous couple; quick witted, engaging, warmly hospitable.  You could see they were having fun in almost everything they did together and they did everything together.
I would often talk of Tulsa's music scene with Buddy and yet, there was some sadness in those talks.  In 1979 while working for the Tulsa Chamber of Commerce as Visitor Development Specialist, I was one of the incorporating officers of the Tulsa Music Association (TMA).  Active for a short while, TMA eventually faded, but by default and twenty years later, I ended up with the non-profit corporation.  I wanted Buddy's help in capturing the history of the Tulsa Sound and other styles and stars of Tulsa's significant musical past.  Unfortunately, Buddy thought I was mostly interested in JJ Cale and he knew Johnny well enough to know that he would not participate.  I have come to believe Cale is still a little mad at Tulsa because of treatment he received from law enforcement decades ago.
By the way, that is the second most common reason talent left Tulsa back in the day – politicians using heavy-handed enforcement against musicians and clubs to make a name for themselves and gain another term in office.  The top reason musicians left were financial.  After the oil boom, eventually Tulsa ceased to be the Oil Capital of the World and the "flash cash" that provided a vibrant club scene disappeared.
Buddy's wife Kelly asked me to serve as the Officiant at the memorial service February 26 and I was honored to do so.  I can't write now all that was said, but in short, I believe it is never too late to see the face of God and, as God calls us to love and laughter, I believe I saw God's face often reflected in Buddy Jones – in how he cared for others and enjoyed good fellowship from the heart.  Buddy kept friends a lifetime and that is not an easy thing to do.
In the 2003 Tulsa World article Jimmy Markham, a musician and Tulsa Sound pioneer, said he and Jones had been friends for more than 50 years.
"Back in the early days, we hung out a lot, played a lot of the same gigs," he said. "We were on the road together for a while. He was a funny, funny guy. He and I always laughed and carried on when we got together."
Also quoted, Chuck Blackwell, Jones' longtime friend and fellow drummer, played the same clubs in the early days, and the two later spent a lot of time together in Los Angeles.
"Buddy was a good drummer – right in the groove, and 'not too much is enough.' He was one of the best. We will miss him," Blackwell said.
Buddy Jones is survived by his beloved wife Kelly Jones, his sister, Judy Johnson and husband Ray of Tulsa, brothers, Steve and Betty Jones, FL. and Robert Jones and wife Dixie of Pryor, Oklahoma.  Buddy's mother-in-law Winnie Mullinax, Kelly's sisters Tonye Townsend, and Terry and her husband Tony Winkle, niece Jessica Winkle and nephew Jason and his wife Kyla Townsend and many extended family and friends.