Two private parades are scheduled in Tulsa December 10 at 6 pm.  This should not be controversial.  It appears mostly ironic, but it is certainly not "war" as U.S. Senator Jim Inhofe was quoted in the daily newspaper Thanksgiving Day.  The "Holiday" parade downtown is organized by Tulsa Charity Christmas Parade, Inc. yet for years that organization has refused to incorporate the name "Christmas" in their parade title.  The new parade on Olympia at 71st Street South in the Tulsa Hills Shopping Center is titled "Tulsa Christmas Parade."
Holiday or Christmas: Tulsans may parade however they like, but as the organizer of the Tulsa Christmas Parade let me share a personal story on why I parade for Christmas.
My grandfather, Charles B. Arnett and later Uncle Bill Arnett owned Tulsa Greenhouse.  My parents, Keith and Elda Mae Arnett owned the Tulsa Blossom Shoppe for many years. 
Growing as up the son of a Florist; Christmas was an exhausting two month adventure of hectic and at times frantic activity.  As a child, the primary mission was not to get stepped on and to be helpful.  I learned to make arrangements, corsages, grave blankets, roping, and all the stuff of holiday decoration.
Dad would bid on commercial contracts and often won.  I loved to help and most vividly remember the DX Sun Building downtown.  They usually required a "flocked" Christmas Tree in the lobby with roping and other decorations.  To get the natural look of snow; flocking a tree must be done on site and Dad would hang plastic sheeting around a huge tree (as small eyes saw it) and blow the fake snow within.  He would wear a mask to keep from inhaling the sticky white goo and came out looking like Mr. Snowman head to toe.
All of this was done after hours and often late into the night.  I still remember hanging off high edges to add bobbles and lights in roping around downtown lobbies.  We ran up and down ladders like crazed monkeys.  We delivered orders past sundown.  We worked hard and on Christmas Day, my brother Mark and I could rise to see the presents under the family tree, but we were warned not to wake the always exhausted parental authorities.
No one involved with the Tulsa Christmas Parade this year begrudges anyone else the right to have their own parade.  We just love Christmas.  I am not a preacher or priest, but more the prodigal son grateful to serve my Heavenly Father's table.  Christmas is the celebration of the birth of Christ which brought to earth the message of peace and joy and good will to all men – a message I assume all citizens of Tulsa could celebrate and endorse regardless of their specific religious beliefs especially in troubled times.
The Tulsa Christmas Parade is 100 percent privately funded, but my one regret, as organizer, is that so many in Tulsa did not know of our plans until the public announcement.  Many churches, schools, and businesses had already made other plans for the date announced and will not be able to join us this year.  We hope they will join us next year.  We were delayed in our parade announcement because we diligently sought to sponsor by time, talent and money the title "Christmas" back into Tulsa's traditional downtown parade of the season.  For 70 some years, that was not an issue, but from our experience now, no amount of money can buy Christmas back into the title of the downtown Holiday Parade.  Thus a rebirth as we begin tradition anew.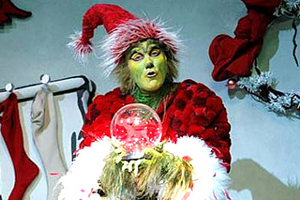 If downtown organizers are angry that we are using the title "Tulsa Christmas Parade" that is their problem – they dropped the name.  They have misrepresented our effort.  They insult us to media, but that isn't nearly as hurtful as the so-called religious folk that for commercial or other reasons are not supporting Tulsa Christmas Parade efforts.  Some even use the argument Christ personally rejected during the anointing at Bethany that the money spent on the Tulsa Christmas Parade should go to feed the poor – this from an associate pastor of a multimillion dollar facility in Broken Arrow.  Jesus' critic at the time with the same line was Judas.
The downtown Holiday Parade will be much fancier as it is greatly sponsored by legacy organizations.  The Tulsa Christmas Parade will provide a more modest presentation.  Today is a quiet time for organizers as the deadline for participation is December 1st and we really don't know yet how many floats will be in the Tulsa Christmas Parade.  At this time, fifty applications are in hand and more arrive daily.  Anyone may sponsor or participate by calling 918.583.2345 for more information and an application.
Apparently, as modern media seems to worship fame, the big news for the daily newspaper is the decision of U.S. Senator Jim Inhofe to parade or not with whom.  This is a reflection of the manufactured controversy headlined last year.  The Tulsa Christmas Parade has repeatedly made the point that Senator Inhofe is welcome to parade where he may choose with more than five Christmas Parades in northeastern Oklahoma that same day.
To his credit, Senator Inhofe is quoted saying, "I don't want to compete.  I love all those people."  Then, if the quote is accurate, Senator Inhofe goes on to say, "So I don't want to be getting in the middle of a war."  Then he backtracks as quoted saying that Tulsa Christmas Parade supporters "genuinely believe, as I do, that Christmas means the birth of Christ, and it has always been that way," Inhofe said.  "So, it is not a war.  It is not a conflict."
Dang Senator – could you have just not used the term "war" in any regard.  That was not helpful and follows the line of controversy-addicted media.  From the Tulsa Christmas Parade standpoint, we wish the Holiday Parade the best of success.  May they celebrate whatever holy day or lighting display that appeals to them with enthusiasm and earned success.
That downtown parade was protested by Tulsans in 2009 on the streets and in 2010 at City Council, but media sometimes has selective memory based on their own reporting.  Besides, the daily newspaper has been so supportive of Senator Inhofe over the decades (sarcasm) that you would think he would be more careful with what he says around them.  Oh well.
Tulsa Christmas Parade LLC is a board of diverse individuals of divergent interests.  Mark Croucher is a small business owner of multiple enterprises from automotive to insurance.  Josh McFarland owns and operates a growing construction company.  Eddie Huff also owns an insurance business and is a radio talk show host on KFAQ.  Just to illustrate difficulties, I was also a radio talk show host for a year with a show on KRMG that long discussed the "Christmas" parade name issue.  KFAQ and KRMG are fierce competitors, but Huff and I find common cause that Christmas is the celebration of the birth of Christ and that everyone is welcome to join us for peace on earth, joy to the world, and good will toward men (including women).
The Grand Marshall of the Tulsa Christmas Parade is Dr. Everett Piper, President of Oklahoma Wesleyan University.  He is the best spokesman for this parade and may well be for Christianity in the modern day.  He has graciously made himself available for media interviews, but, for some reason, media is more interested in quotes from politicians.  Despite his busy schedule, Dr. Piper plans to write a byline piece for Tulsa Today soon.
As a drummer in the Memorial High School Marching Band's Big Blue Machine, I marched in the parade downtown when it was the Christmas Parade.  I have organized and labored with Oktoberfest, Blue Dome and other local festivals.  I have produced stage shows, books, film, and published print, but I have never before organized a parade.  Fortunately, good people of the City of Tulsa, private contractors and others provide excellent advice.  As a first year event, no one knows how many may attend, but we expect an excellent crowd and are planning most for the children.
Here is the fact for Senator Inhofe and the media:  The Tulsa Christmas Parade is not about downtown, it is not about any one organizer, sponsor or member of the committee, it is not about any politician nor is it about politics.
The Tulsa Christmas Parade is about Christmas.
---
Click the links below for previous coverage:
To reach the Tulsa Christmas Parade Facebook page, click here.