Opinion: The good news from the death of Dictator Hugo Chavez is that Citgo Petroleum didn't embarrass Tulsa.
When Citgo Petroleum left Tulsa to headquarter the U.S. operation in Houston, the economy and long history took a hit, but just think how good it is now for Houston.  Citgo flew American and Texas flags at half-staff in several facilities in the city.
Chavez, communist and personal friend of actor Sean Penn (how special), moved Citgo to Huston a few years ago.  Once the Oil Capital of the World, Tulsa hated to see the company depart and then Mayor Bill LaFortune one day even brought cookies to "show the love."  Oh well.
Tulsans found other jobs.  Those that moved found what joys they could in Houston.  They came to treasure long periods of temperature and humidity hovering together above 100.  They rise each morning for travel with legions of pleasant patient people commuting hours daily in close proximity on high-speed (when moving) expressways.  They continually delight in the lack of zoning or organization of the city's growth and relish deporting more illegal humans each year than most cities contain.
The oft repeated urban legion for Citgo's move from Tulsa is that Houston was thought better to entertain the mistresses of company executives.  More stuff to do with the odds greater that hot tempered Venezuelan wives would not suspicion dalliance – easier to hide in a bigger crowd don't ya know.
So in behalf of the city sarcastic(s) who do not represent any elected official; Tulsa Today does express our joy that the excellent Cuban health care system, so loved by Hollywood's fool Michael Moore, provided a new tourist attraction in pudgy form of Hugo Chavez.  We hope the embalming works and he doesn't stink too much while maintaining the belief his spirit will, for eternity, review pains he made along the way in his rise to leadership of Venezuela.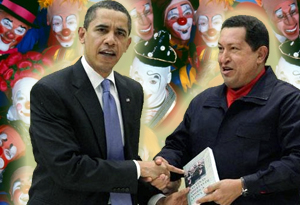 We sincerely hope the pain of each individual man, woman and child tortured and killed by Chavez will pass in total with him in every moment for eternity.  Chavez deserves to be one with the terror he created during his pathetic evil life.
We wonder if President Obama ever read his book.
In a statement, Citgo said, "President Hugo Chávez of the Bolivarian Republic of Venezuela leaves behind a legacy of support for the underprivileged and promotion of social justice that transcends
geographical boundaries."
The oil company went on to say "We at CITGO Petroleum Corporation are deeply saddened by the news of his passing. Our thoughts and prayers are with his family and the people of Venezuela in this time of grief."
News of Citgo's tribute to the late dictator sparked outrage on Twitter and elsewhere.
Click here for more from Breitbart.com.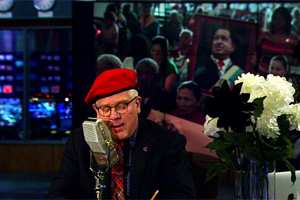 Wearing red berets and shedding fake tears, Glenn Beck and company on Friday paid "tribute" to the late notorious Venezuelan leader Hugo
Chavez.
It was during Beck's radio program Friday morning that Chavez was eulogized. Beck covered all of the socialist leader's "achievements," including runaway inflation and food shortages.
"It is fitting that after making the Venezuelan healthcare system the envy of the entire planet Hugo Chavez refused to utilize it leaving more space available for the people he loved and he left a lot of space. The specialist kidney unit in Caracas has been completely empty for nearly a year. No one is there. Not a single patient. Doctors have been turning patients away ever since the hospital's water treatment plant broke down months ago," co-host Pat Gray said.
Click here for more from The Blaze.