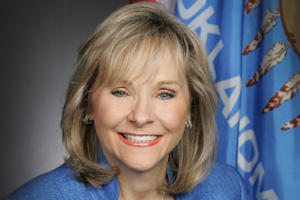 OKLAHOMA CITY – Despite her aversion to federal deficit spending, Oklahoma Gov. Mary Fallin does not think all debt is bad. She has restated her support for completion of the American Indian Cultural Center and Museum in Oklahoma City, including possible state bond financing.
The comments came on a day one member of her staff said, in response to an inquiry about a meeting with Indian tribal leaders, that she had "no public events" scheduled.
Others involved in the session hosted by the Native American Legislative Caucus welcomed me into the session, with one describing it as an "open meeting."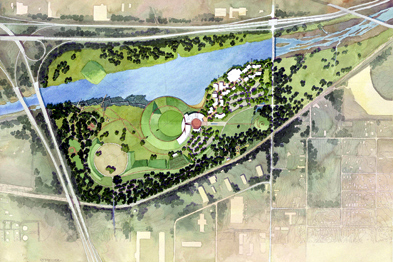 The chief executive's statement came even as legislative opposition to new state bond issues seems to have intensified.
In the Tuesday luncheon meeting with Native American legislators and tribal leaders, Fallin said she hopes the Legislature will approve a bond or some other means to finance completion of the facility. She described her regular meetings with legislative leaders, and her statements to them of her support for the center, under construction on the Oklahoma River in Oklahoma City.
At the meeting, state Rep. Paul Wesselhoft, R-Oklahoma City, cautioned there was little appetite for a bond issue this year. He is encouraging Chambers of Commerce and others to "step up" and finance completion of the center with direct contributions. Hopes of the museum's supporters for a state bond seem likely to bump up against political reality.
In recent comments to reporters, Speaker of the House T.W. Shannon has restated his objective to limit government debt. House Bill 2195, a priority for the Lawton Republican, passed the House on Feb. 28 and is now before the Senate. The measure would cap nominal state debt, so that it would not rise above current levels.
Shannon argued, "With a credit limit in place, we can be better stewards of taxpayers' money and avoid forcing unneeded debt on future generations."
In a Feb. 25 commentary printed in some state newspapers, Speaker Shannon said, "Even at today's low rates, borrowing $200 million would cost the state the extra $80 million in interest over the next two decades.
 Only in government does it make sense to pay $280 million for something that costs $200 million."
In a Feb. 25 commentary circulated to state newspapers, Shannon said, "We have debt problems of our own. Today, outstanding tax supported bond debt is just under $2 billion. Additionally, the state has roughly $6 billion in revenue bond debt. Neither includes the nearly $12 billion in unfunded pension liabilities.
"That $2 billion debt represents a multitude of projects, many of which have come and gone. But the bill for those projects is still owed, with interest. And the bill isn't exactly small. In fiscal 2013, for instance, Oklahoma's total debt service on tax supported bonds was $233 million, including almost $85 million in interest payments alone."
"Even at today's low rates, borrowing $200 million would cost the state the extra $80 million in interest over the next two decades."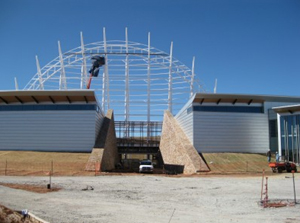 Concerning the center, Shannon this week announced he was appointing Clay Bennett, owner of the NBA's Thunder, to the board of state leaders overseeing efforts to complete the facility.
Legislators at the meeting with Fallin included Wesselhoft and his Native American Caucus co-chairman, state Rep. Anastasia Pittman, D-Oklahoma City, and Reps. Seneca Scott, D-Tulsa, Kevin Matthews, D-Tulsa, Chuck Hoskin, D-Rogers County, and state Sen. Kyle Loveless, R-Oklahoma City.
Loveless has been a supporter of a bond proposal to finance completion of the project, which is years behind schedule and over budget.
Fallin told the Native American Caucus she had discussed funding with state Sen. Greg Treat, also an Oklahoma City Republican. Treat, who was not at the meeting, opposes a bond issue and has said he believes the museum should be completed some other way.
In last year's audit of the museum's governing body – the Native American Cultural and Education Authority — State Auditor and Inspector Gary Jones found no wrongdoing, but was critical of management, expeditures, efficiency, effectiveness and reasonableness in operations. He said past operations had amounted to a "Cadillac approach" despite modest resources.
Also participating in the caucus meeting were several key Native American leaders, including Gov. Janice Prairie Chief Boswell of the Cheyenne & Arapaho tribes. The two tribes operate successful gaming and entertainment operations on tribal lands in western Oklahoma.
Fallin thanked members of the Native American Caucus for their work on "the many issues that affect Oklahoma's 38 federally recognized Indian tribes."


Contact Patrick B. McGuigan at Patrick@capitolbeatok.com and follow us on Twitter:  @capitolbeatok.