Worshipers of President Barack H. Obama should not read the article by Dr. Milton R. Wolf that recently appeared in The Washington Times.  Leftists may pop-off in rage as facts contrary to their religious zeal for top-down control over those pesky unwashed masses is shown to be what history has always proven – tyranny.
Wolf makes a compelling case.  Conservatives have been saying much the same for decades, but as the old saying goes, those (idiots of the Left) that don't consider history are often condemned to repeat it.  Of course, the beloved leader's wide wife Machelle said something about Americans needing to relearn history (or was that consume propaganda) before she was promptly hushed by handlers.
Back to the awakening as Dr. Wolf wrote:
Americans are beginning to recognize the disturbing similarities between President Obama and the fallen Richard Nixon, but the comparison that may matter more is between Mr. Obama and King George III.
"He has erected a multitude of New Offices, and sent hither swarms of Officers to harass our people and eat out their substance," in the words of the Declaration of Independence.
King George's assault on the Americans' natural freedoms was oppressive, intolerable and deserving of a revolution. The truth is, the intrusion, restriction and outright harassment that our government subjects us to today is far beyond what the colonists faced from their tyrannical king. If it was tyranny in 1776, then, by God, it is tyranny today.


Consider the enormous coercive power of the Internal Revenue Service and its lust to wield it. The IRS admits to systematically identifying and harassing political dissidents who dare to disagree with the political bosses. The IRS created what could be considered an enemies list starting with conservative Tea Party groups. It targeted any group calling itself "patriot" or daring to teach the Constitution or Bill of Rights.
The scope of its abuse is only beginning to unfold. I have also faced its wrath. Mr. Obama's White House urged my editor at this newspaper to drop me. Consider that. Facts or opinions weren't challenged and I wasn't challenged in the arena of ideas — the White House just wanted me gone. How dare the president's own cousin criticize him!
Credit The Washington Times for defending the Constitution against the White House's attack on it. It gets worse. Or is it just a coincidence that around this same time, the IRS inexplicably put a hold on my tax return for several months without ever explaining why? The arbitrator could only say it was "very strange" and "unusual." Indeed.
This abuse is not limited to the IRS. Mr. Obama's appointee to the Environmental Protection Agency likened himself to a Roman conqueror ready to wield his government power to arbitrarily "crucify" — his word — energy companies just to keep them obedient and fearful. His forced resignation fails to hide what we're learning today, that even in his absence, the EPA routinely waives burdensome fees for politically acceptable groups but imposes them to their fullest on adversaries.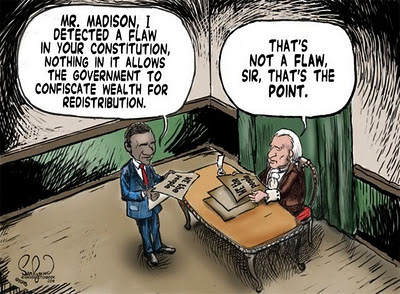 This is not simply picking winners and losers — it is something so much more. This is a government declaring friends and enemies among fellow Americans, and it goes all the way up to the Oval Office. In 2010, it was Mr. Obama himself, who declared to a roaring crowd, "We're gonna punish our enemies and we're gonna reward our friends." Chilling.
Punishing enemies and rewarding friends will be the sad, pathetic and enduring legacy of the Obama presidency. The stimulus failed to create jobs — there are 3 million fewer today than when Mr. Obama took office — but it did succeed at its real purpose: rewarding political friends and connected crony donors. The IRS witch hunt unleashed a culture of intimidation.
"Obamacare" is poised to force everyone else to get in line. Consider this: The IRS has demanded that conservative groups report the content of the prayers and reading clubs report the content of the books. The same IRS agent who ran this witch hunt has now been put in charge of enforcing Obamacare.
"After we win this election, it's our turn. Payback time," warned Valerie Jarrett, Mr. Obama's longtime senior adviser. "Everyone not with us is against us, and they better be ready because we don't forget. The ones who helped us will be rewarded, the ones who opposed us will get what they deserve. There is going to be hell to pay."
This is not simply a scandal, as some call it. A scandal implies a failure of the system. This is the system. This is a political class wielding the goliath power of the most intrusive and most feared government agencies at their disposal in order to intimidate, silence and control the citizenry. It is an unmasked assault on the First Amendment, on the Constitution and on America itself, and it must not stand.
To read more from The Washington Times, click here.