TULSA, OK—It was a game of firsts on Saturday night in the BOK Center for the Tulsa Shock.
In addition to winning twice in a row for the first time in 2013 they handed a defeat to an opponent that was expected to hold a nearly 20 point advantage.  It was the first time since the Shock played in Detroit that such a milestone has taken place.  Finally, it was the first time since their relocation from Michigan that Tulsa has defeated the Storm twice in a season.

Roneeka Hodges was the heroine for the Shock on this night.  Her 19 points in the game, which included a near perfect 4-of 6 from behind the 3-point line and 7-of-9 from the field led all scorers in the contest.  Indeed, Tulsa had six players in double figures on the night, with the red-hot Glory Johnson scoring 14 point and 12 rebounds, new starter Nicole Powell with 11 points and Jennifer Lacy and rookie Angel Goodrich both scoring 10 points.
Skylar Diggins added 11 points and led the Shock with 6 assists on the night.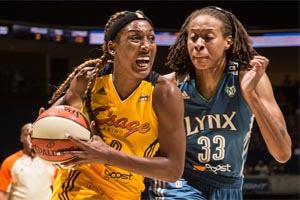 In the end, consistent pressure and effective defense on Seattle's key players proved effective for the Shock, who improve to 3-7 on the season.  Shock head coach Gary Kloppenburg also focused on his team's strict adherence to the game plan as another key to the victory.
"This is a really good win for us. I thought we came out and really tried to follow our game plan." Coach Kloppenburg said, "We knew they were coming in off the road and we really wanted to jump on them early.  We felt like eventually we were going to be able to wear them down.  So I thought that third quarter we really came out. A lot of energy, got some easy buckets and kind of broke it open."
Seattle had won back-to-back games on the road against Washington and San Antonio before falling to Tulsa on Saturday night and they even their season at 4-4.
Tianna Hawkins led the Storm with a season-high 17 points, and guard Temeka Johnson was second on the Seattle scoresheet with 14.  In all four Storm players finished the game in the double figure category, with Shekinna Strickland and Alyshia Clark both scoring 10 points.  16-year veteran Tina Thompson was held to three points on the game,
From here, the Shock will hit the road, visiting Minnesota, Indiana, Washington and  Connecticut before returning home on July 11th to face the Los Angeles Sparks.