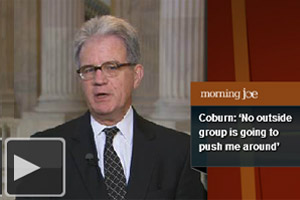 The Hill is reporting that Sen. Tom Coburn (R-Okla.) on Thursday lashed out at outside groups who are pressuring lawmakers to tie any proposal to fund the government to the defunding of ObamaCare, saying their lobbying has only made him more opposed to the plan.
"My attitude … you start pushing, you just get me to push back harder," Coburn said on MSNBC's "Morning Joe."

Coburn dismissed the group of Senate Republicans spearheaded by Sen. Mike Lee (R-Utah), who are pushing the strategy. He said they are a minority of the caucus backed by outside groups.
Coburn has been one of the most outspoken critics of the strategy. He rejected the notion that senators threatening a government shutdown have caused a major rift in the GOP.
"That is not true. You have 11 Republicans senators out of 46," he said. "That means 35 don't agree with the strategy … that in my 65 years of life think is a pregnant strategy that … will deliver nothing other than pain and not be successful."