Breitbart.com has a feature story by retired U.S. Marine, Lt. Col. James Zumwalt that details the challenge Western Civilization face in dealing with the sadly mistaken priorities of the Muslim Brotherhood.  While he does not mention Tulsa, the organization is active here, in many American cities and influential in the Obama Administration.  As American and allied military forces gather to address mass murder by Syria, Zumwalt's review provides insightful prospective.
Zumwalt writes: From its inception in 1928, the Muslim Brotherhood has been the subject of persecution due to its commitment to a single goal — transitioning the world into an Islamic empire.
Recognizing Islamism begins at home, the Brotherhood plodded along for more than eight decades under four presidents seeking to achieve the goal in Egypt. Like a race horse heading home, the Muslim Brotherhood's pace quickened, sensing victory was near with Morsi's election.
The Muslim Brotherhood saw its gains as "one small step" for Islam and "one giant leap" for Muslimkind.
Not content with small successful steps, it moved to take a giant leap in Egypt. It stumbled and seems headed back to its earlier days of harsh persecution under previous presidents.
A U.S. commercial claims four out of five dentists recommend its product, suggesting the four have superior knowledge to the one who doesn't. Similarly, four out of five Egyptian presidents have sought to minimize the Muslim Brotherhood's influence, suggesting they possess superior knowledge as to why it poses a danger — one clearly recognized by the Egyptian military.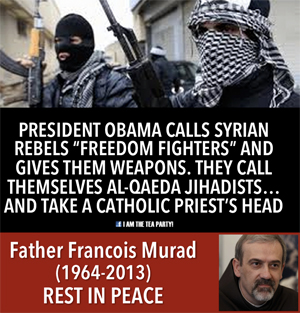 That danger was set aside in 2011 by U.S. President Barack Obama, who announced the United States would work with the Muslim Brotherhood, an organization seeking America's long-term demise.
Morsi was the Muslim Brotherhood's "poster boy," coming to office because the Brotherhood was the only domestic organization with the infrastructure in place to support a candidate.
While proving inept as president, failing to act upon major domestic problems like the economy, Morsi chose to help the Muslim Brotherhood establish a stranglehold on the people. No attempt was made to lull the people into a false sense of security as Morsi put the cart before the horse, quickly seeking to impose the Muslim Brotherhood's will upon them. Compared to the former Soviet Union, Morsi sought neither glasnost nor perestroika.
What the Muslim Brotherhood had planned for Egypt extended far beyond those borders.
In the early 1990s, the Brotherhood memorialized its strategy in a secret document — not discovered until 2004 — for spreading Islam's reach to U.S. borders as well. In a game plan best described as "Shariah creep," it sought to introduce Islamic law into the United States, gradually getting it to replace rights guaranteed by the U.S. Constitution.
Sound absurd? We have already seen Shariah applied by U.S. state courts!