The Boat Owners Association (BoatUS) says recreational boat owners need to take special precautions with E-10 gas and review their insurance policy before they put their boat to bed for a long winter's nap. Otherwise, they may be in for trouble next spring.
Keep ethanol at bay: Today it's highly likely that your boat's gasoline contains a mixture of up to 10% ethanol, which is known to damage engines and boat fuel systems, especially over the long winter storage season.
If you have a portable gas tank on your boat, try to use as much gas as possible before you put the boat away at the end of the season. Any remaining gas or gas-and-oil mix that's left in the portable tank can be put in your car or outdoor power equipment, respectively. The goal here is to use it up as quickly as possible.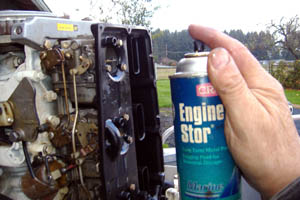 If your boat has a built-in gas tank that cannot be emptied, add a fuel stabilizer, and then fill the tank as much as possible, leaving just a smidgen of room for expansion. This will greatly reduce the amount of moisture laden-air that can enter through the tank's vent and potentially condense on inside tank walls over the long storage season. The goal here is to prevent water from being absorbed into the gas and ethanol mixture, which if left unchecked, results in phase separation and damage to the boat's fuel system and motor. For a more detailed look at ethanol and winter storage, go to www.BoatUS.com/seaworthy/ethanolwinter.asp.
Look for "ice and freeze coverage" in your boat's insurance policy: Many boat owners think they don't have to worry about freeze damage if they live in temperate states or if they keep their boat in an indoor, heated storage area in Northern states. But every year, BoatUS gets multiple freeze damage claims for boats in Southern states hit by a hard freeze and for boats stored in indoor facilities in Northern states where a storm took out the power. So the first rule of winter storage for any boat is to winterize it properly.
Even then, small winterizing mistakes like not draining all of the areas of the raw water system can easily destroy an engine. For that reason, BoatUS recommends ice and freeze coverage just in case something got overlooked when the boat was winterized. Typically offered as a policy "rider" to boats stored in northern climates, it's inexpensive (BoatUS offers the add-on coverage for as low as $20) and can go a long way toward protecting you from a catastrophic engine loss. Ice and freeze coverage may also be a smart option for do-it-yourselfers who want peace of mind, or for trailer boaters who store their boat in a heated garage or travel between warm and cold states.
However, there is a deadline to purchase this coverage as most insurers don't offer it once temperatures get cold, usually the end of October. BoatUS says that boats in warmer, temperate states often have this feature added to their policy automatically, but you should check with your insurer. For more information on boat insurance or ice and freeze coverage, go to www.BoatUS.com/insurance or call 800-283-2883.