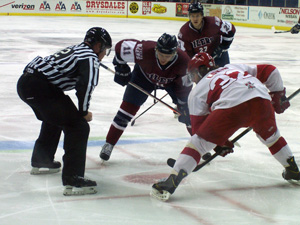 TULSA, OK—With training camp set to begin next week, Tulsa Oilers head coach Bruce Ramsay filled in the remaining open spots on his roster sheet.  In all, 26 players are currently signed to the Oilers roster, which will be cut down to 18 by opening day, which is set for the Oilers on the road in Denver on October 18.
The Oilers signed goaltender Joey Perricone, forwards Jordan Draper and Evan Carriere, along with defenseman Ricky Helmbrecht.
Joey Perricone, 26, spent the last four years stopping pucks at St. Francis Xavier University in Nova Scotia.  A native of San Juan Capistrano, California, Perricone earned his first professional experience during the 2008-09 season when he appeared in two games for the Bakersfield Condors (ECHL).  Prior to his college days, the 6-2, 230-pound netminder played five seasons of junior hockey for the Moose Jaw Warriors (WHL).  Perricone finished the 2007-08 campaign ranked fifth in the WHL in total saves and tied for third with five shutouts.
"I'm looking forward to playing pro hockey again because I feel like I've matured a lot during my time in college and I'm excited to take that next step," said Perricone.  "I know nothing is going to be given to me at this level and I know it will be a step up from college but I think Tulsa is good situation for me and I think I can play well for this team."
"You have to have two solid goaltenders in this league if you want to compete every single night," Coach Ramsay said.  "Joey is big, athletic goaltender who has a chance to be very successful here and I think we'll have a very intense goalie competition once camp begins."
Draper arrives in Tulsa as a 24-year old rookie forward.  A product of Sherwood Park, Alberta, Draper put up 138 points in 113 games during four seasons of junior hockey with the Spruce Grove Saints (AJHL).  The 6-0, 190-pound wing played collegiate hockey at York University and the Northern Alberta Institute of Technology.  Draper got his first taste of pro hockey at the end of the 2012-13 season when he suited up for a pair of playoff games with the Columbus Cottonmouths of the SPHL.
"Even though my time in Columbus was short, it gave me good experience and more importantly it gives me a better idea of what to expect when I get to training camp," Draper said.  "I've never been to a pro camp but I'm confident in my abilities and hopefully I can have a great season."
"Jordan put up great numbers in juniors and was a very solid college player so there's no reason to believe he can't come here and contribute," Ramsay commented.  "He's a talented offensive player who makes the most of his scoring chances."
Carriere, an Ottawa native, is fresh off a four-year collegiate career at the University of Connecticut.  As a senior in 2012-13, Carriere appeared in all 37 games for the Huskies and was honored with the "Seventh Player Award" given to the player who demonstrates the most consistent effort on the ice.  The 25-year old played junior hockey for the Northern Cyclones of the AJHL and over three seasons he posted 142 points in 116 games.
"I know the CHL will be a step up from college hockey but the college game is very fast and I think the pure speed of it helped me prepare for what I'm going to face," said Carriere, a 6-2, 205-pound left wing.  "I think with the infrastructure of the league, the coaching staff that's in place, and the building we'll get to play in, it sounds like Tulsa is going to be an exciting opportunity for me."
"Evan is a big, powerful kid and I like those players who can win battles in the corners and go to the front of the net," Ramsay said.  "UConn is a very good program that has produced some tremendous talent so I don't think Evan will have too much trouble adjusting to our league."
Another former Fort Worth Brahma joins the Oilers in the form of defenseman Rikcy Helmbrecht.  A 5-11, 190-pound defenseman, Helmbrecht is entering his seventh season as a pro.  Last year, Helmbrecht appeared in 17 regular season games for the Fort Worth Brahmas and played in all nine of the Brahmas playoff contests.  Helmbrecht, who hails from Mora, Minnesota, played three seasons in the German Oberliga before making stops in the SPHL with the Knoxville Ice Bears and ECHL with the Cincinnati Cyclones and Greenville Road Warriors.
"I think my consistency and my ability to battle are my biggest strengths," said the 28-year old Helmbrecht.  "I just try to be solid in every aspect of my game and I'm very comfortable here in the CHL."
"Ricky was recommended to me by my good friend Dan Wildfong (former Brahmas Head Coach)," said Ramsay.  "It's always a plus when you can bring in a guy who has experience in this league.  Talented, tough defensemen aren't easy to find so we feel fortunate to have Ricky on board."
The Oilers will begin camp next Monday, October 7th at the Oilers Ice Center at 64th and Mingo.  During training camp the Oilers will take on the Wichita Thunder in a preseason matchup before the season starts in Denver on the 18th.  They will face the Cutthroats twice before returning for the home opener in the BOK Center on October 26th against the Allen Americans, the defending 2013 CHL Champions.