The Muscogee (Creek) Nation in the near future will have room for more of singer Jimmy Buffet's 'Parrot Head' fans than originally planned.
After unveiling an agreement earlier this year between Buffet's Margaritaville franchise and RiverSpirit Casino, tribal and local officials announced Tuesday afternoon at a ground-breaking ceremony that the expansion tied to the overhaul will be bigger than first disclosed.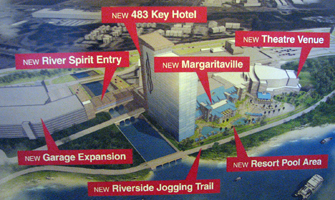 Originally billed as a $250 million expansion with a 22-story hotel, the project now calls for a 26-story hotel with 483 rooms, an additional 50,000 square feet of gaming space, a 30,000 square foot convention center, a 2,500-seat theater, a new 1,500-car parking garage, a resort spa and several restaurants, including Jimmy Buffet's Margaritaville and a "5 o'Clock Somewhere Bar." Upon completion, the casino will be more than twice the size of the existing facility at 81st and Riverside.
The expansion will also include a new jogging and biking trail along Riverside Drive in south Tulsa, replacing a portion of an already existing path that will be impacted by the construction.
With the additional amenities, the estimated cost is now pegged at $335 million.
"The nation made a decision 10 years ago to make a significant investment in the banks of the Arkansas in Tulsa," Principal Chief George Tiger said. "Today's announcement is another game-changer."
Slated to take between 18 and 24 months to complete, the construction alone is expected to create 1,800 jobs and have an estimated impact of more than $300 million. Once finished, the new casino will generate an additional 800 jobs and have an annual economic impact of $135 million on the Tulsa area.
With expansion plans also calling for a riverfront entertainment area, officials at the press conference were optimistic that the project will have another impact on Tulsa beyond jobs and payroll dollars.
"If this isn't a brilliant PR campaign by the [Muscogee (Creek) Nation] to bring water to the river, I don't know what is," Margaritaville CEO John Cohlan said. "I would say, Mr. Mayor, that we bring the palm trees and the sand, but we're missing one key ingredient here and that would be the water."
As of Wednesday, the U.S. Geological Survey recorded the Arkansas River's depth at about four feet in Tulsa, a figure that could increase with additional low water dams in the area. The city has 11 miles of river shoreline within its limits.
"I assure you that with a $335 million investment, there will be water in the (Arkansas) river," Mayor Dewey Bartlett said.
About the author: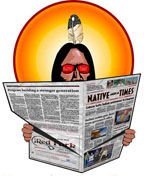 Tulsa Today is pleased to feature this work by Lenzy Krehbiel-Burton a regular contributor to the Native American Times. A freelance reporter based out of Tulsa, her work also appears in the Tulsa World and the Tahlequah Daily Press.  The Native American Times (est. 1995) is Oklahoma's only independently owned and operated Native American community newspaper. It is the third largest weekly in the state. For more information, email info@nativetimes.com.