OKLAHOMA CITY – Governor Mary Fallin, after consulting with Oklahoma Attorney General Scott Pruitt and Oklahoma Adjutant General Myles Deering, today announced that National Guard facilities and employees funded with state dollars will not process benefits for married, same-sex couples.
The Oklahoma Constitution explicitly defines marriage as between a man and a woman. It also prohibits the conveyance of marriage benefits onto same sex couples. It is therefore illegal for state employees or state-funded facilities to process same sex benefits. The provision of the Oklahoma Constitution defining marriage was added as the result of a 2004 ballot provision that passed with 75 percent of the popular vote.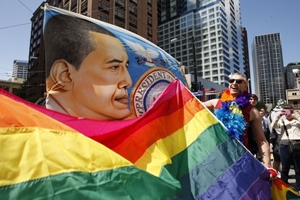 Last week, Defense Secretary Chuck Hagel ordered the National Guard to comply with federal rules that recognize same sex benefits. In response to that order, General Myles Deering has directed federally owned Guard facilities, staffed by federal employees, to process all marriage benefits.
Marriage benefits for Guardsmen will now be processed at four Guard facilities that are federally owned. These include: the Regional Training Institute in Oklahoma City, the state's two Air National Guard bases, and Camp Gruber. Same sex benefits will also be processed at Oklahoma's five federal military facilities, which include: Tinker Air Force Base, Fort Sill, Altus Air Force Base, Vance Air Force Base, and McAlester Army Ammunition Plant.  Processing of benefits will be done by federal, not state, employees.
"Oklahoma law is clear," Fallin said. "The state of Oklahoma does not recognize same sex marriages, nor does it confer marriage benefits to same sex couples. The decision reached today allows the National Guard to obey Oklahoma law without violating federal rules or policies. It protects the integrity of our state Constitution and sends a message to the federal government that they cannot simply ignore our laws or the will of the people."