Oklahoma Attorney General Scott Pruitt on Wednesday joined attorneys general from nine other states in a letter to U.S. Department of Health and Human Services Secretary Kathleen Sebelius asking the Obama Administration to support immediate legislative action to correct systemic implementation problems within the Affordable Care Act (ACA).
The five-page letter highlights three areas of concern with the implementation of the ACA: The many statutory and regulatory delays, the significant technological difficulties, and the security of consumers' private information. The letter was signed by attorneys general in Alabama, Florida, Georgia, Kansas, Louisiana, Oklahoma, South Carolina, Texas, Utah and West Virginia.


"As attorney general, I take seriously my responsibility to protect consumers, and the implementation of the Affordable Care Act has shown a number of potential problems for Oklahomans," General Pruitt said. "The federal government has proven itself incapable of setting up a functional federal exchange. And millions of Americans are seeing their insurance premiums increase or are being notified their coverage is being dropped because of the federal health care law. We are urging the Obama Administration to work with Congress to address the mounting problems with the law and its implementation."
In the letter, the attorneys general highlight a number of statutory provisions that have been delayed thus far, including the cap on consumers' out-of-pocket expenses, the small business health insurance exchange, and the mandate requiring large employers to provide health insurance.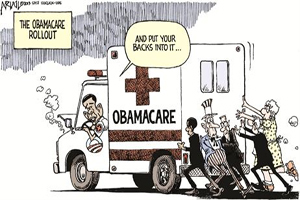 The letter also recounts the technical difficulties the federal exchange has experienced since opening on Oct. 1, including numerous "glitches" that have made it difficult for consumers to complete the application for health care coverage. Insurers also are reporting problems, such as duplicate enrollments, spouses reported as children, and missing data fields.
The attorneys general's letter highlights concerns over the privacy and security of consumer information, including several cyber security issues experts have identified, such as the federal Web site's inability to block third-party access to consumers' personal information.
Oklahoma filed the nation's first lawsuit related to implementation of the health care law. The case is pending in federal court in Muskogee.
President Obama's socialized healthcare plans are shown in the following collection of historic clips.  The point in his words, apparently from the beginning of his political career, was to reduce the quality of health care in America to that of Cuba's system.