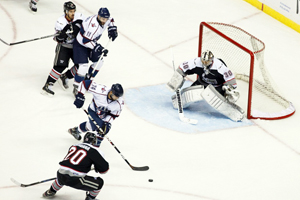 TULSA, OK—After two big wins in Wichita the Tulsa Oiler returned home to the BOK Center to take on the Brampton Beats for the first time ever on Sunday afternoon.  The Oilers during the road trip have won 6 of their last seven games and have pulled into 5th place in the CHL standings with a 6-6-2 record and 14 points.
Tulsa got on the board at 2:22 of the first period when Alexandre Beauregard tipped a Ryan Cramer shot through the legs of Brampton goalie Kristopher Westblom to put the Oilers up 1-0.  Then at 19:35 Michel Beausoleil swatted the rebound of a Craig Cescon shot into an open Beat net to give Tulsa a 2-0 going into the first break.

Brampton came alive in the middle period on goals by Josh McQuade, Jason Pitton, and Michael MacIsaac.  Drew Fisher and Ryan Cramer managed to score for the Oilers to place the home team with a 4-3 advantage going into the third period.  Kyle Bochek provided the Oilers' insurance goal at 2:50 of the third.  Bocheck's initial shot was turned aside by Westblom but a second-effort backhand found the twine and put Tulsa back up by two goals.
It was a physical game but referee Zac Blazic let them play for the most part.  After the Oilers 4th goal by Ryan Cramer, Brampton's Eric Spady and Tulsa's Alexandre Beauregard dropped gloves in front of the Beast net, earning them each a 5 minute rest in the penalty box.  Still there was only one true man advantage situation granted to the Oilers in the first period when Brett Smith was sent off for tripping at 9:00.
Madolora and the Oilers put the clamps down on the Beast offense for the remainder of the night and Beausoleil sealed the win with an empty net goal at 19:18.  Beausoleil's second goal of the night was his 100th goal as an Oiler and moved him into a tie for sixth place on the Oilers all-time points list.
The team's seventh win in eight games pushed the Oilers above the .500 mark for the first time in nearly a year and in sole possession of fifth place and only one point behind Denver who sits in fourth place.  This is a dramatic turnaround for Bruce Ramsay's team who was once wallowing at 0-5-2 and in the cellar of the Central Hockey League standings.
Next up for Tulsa will be three games with the Allen Americans, two at the Allen Event Center and one next Sunday afternoon in the BOK Center.  Tickets for next Sunday's game and all remaining Tulsa Oilers home games are available to the BOK Center Box Office at 2nd and Denver downtown or at the Oilers front office located at 9128 E 46th Street.
Photo by Kevin Pyle.