Charles Krauthammer says the objectives of the tea party and the so-called "GOP establishment" are essentially the same.
"Let's look at Obamacare. Who took the fight to the Democrats in '09 and '10? It's all the so-called establishment types who fought it week after week for a year and a half," the Pulitzer Prize-winning conservative columnist told The Daily Caller in an extensive interview from his Washington office about his new book, "Things That Matter: Three Decades of Passions, Pastimes and Politics."

"I don't know where many of the newcomers were but they weren't in Washington," he continued, discussing the alleged rift between the tea party and the so-called "GOP establishment." "They weren't carrying on the fight. And there wasn't one Republican — one — in the Congress, House or Senate, who supported Obamacare. That's pretty hard to get that kind of unanimity. And that includes all the old guard, all the so-called cocktail swilling, Georgetown-party going, sold out, Cayman-bank account holding RINOs, establishment RINOs. They all voted and they fought against it. So objectives, I think, there's no difference on the objectives."
Krauthammer dismisses the narrative that there is a great civil war taking place in the Republican Party as a liberal media myth.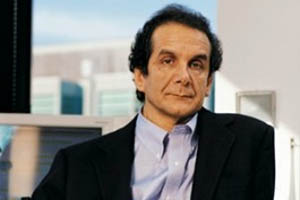 "My argument is there is much less division among conservatives than some people pretend and that the left-wing media, the liberal media, would like us to believe," he said. "They love running stories on the great civil war among Republicans. The great civil war right now is happening on the Democratic side where there is this massive rebellion of Democrats against Obama, Obamacare and the liberal elites that shoved it down their throats."
"The disagreements are mostly over tactics, Krauthammer added.

Over the next several days and weeks, TheDC is featuring the rest of the segments from the Krauthammer interview, click here for more.