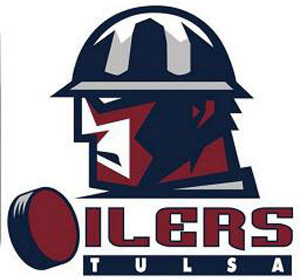 INDEPENDENCE, MO.—The Tulsa Oilers traveled to the Independence Events Center in Independence, Missouri to take on the Mavericks for the second time this season.
It took the Mavericks a little over a minute to get things rolling for the home team when John-Scott Dickson banked a shot off the stick of Oilers goalie Ross MacKinnon.  At the 2:31 mark of the first period Missouri forward Sebastien Thinel netted his eighth goal of the season.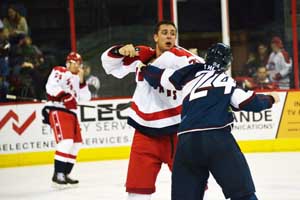 With just under 12 minutes remaining in the opening frame, Mavs' forward Andrew Courtney crunched Oilers defenseman Eric Tallent into the corner glass.  Tallent crumpled and Courtney was assessed a five minute boarding major and a game misconduct.  The Oilers looked to take advantage of a five-minute power play but instead it was the Mavericks who added to their lead.  Thinel connected with Matt Stephenson for a short-handed tally at 9:41 that signaled the end of the night for MacKinnon.
Tulsa got one goal back at 16:52 when Todd Robinson rocketed a slap shot over the glove of Shane Owen to put the visitors on the board.
In a little under 10 minutes in Tulsa's net MacKinnon made seve saves on 10 Mavericks shots.
The middle frame wound down to just 8 ticks remaining when the Oilers Ben Gordon sent a shot through traffic, finding the back of the net behind Owen to cut Missouri's lead to a s single goal.  Despite relentless pressure from the Oilers in the final frame, the Mavericks lead held until the final minute when Stephenson's empty net goal provided Missouri with some much needed insurance.
Blair Macaulay tapped home a goal for the Oilers with six seconds left in the contest but Tulsa ran out of time and fell to 0-2-0 this season against Missouri.
The Oilers outshot the Mavs 13-4 in the third period and Shane Madolora registered 17 saves on 17 shots in his relief appearance.
The win tonight by the Mavericks gives them a a 12-3-0 record and pulls them into a tie  with Rapid City for first place in the Central Hockey League with 24 points.  The Oilers fall to 10-8-2 and 23 points, good enough for fourth place in the standings just one point behind Denver.
From here the Oilers board the bus and travel to Moline, IL for the first meeting this season with the Quad City Mallards on Saturday night at 7pm in the I-Wireless Center.