CBS Face the Nation on Sunday morning was once one of the most respected news shows in America.  Apparently, producers have no desire to regain that status.  NewsBusters' Jeffrey Meyer reports when Senator Ted Cruz (R-TX) appeared on CBS Face the Nation on Sunday morning, he was abused by editing – his views distorted by producers.
Meyer wrote, "Based on video from Senator Cruz's YouTube page and what aired on today's Face the Nation broadcast, the senator's comments surrounding President Obama's "abuse of power" were edited from the program. Instead what aired was a segment that ignored many of the senator's complaints directed at President Obama."
The reader should note that Senator Cruz was met with a barrage of questions from host Bob Schieffer about his involvement in the government shutdown. Schieffer's accusations were brutally Pro-Democrat in the false storyline that the Tea Party senator was to blame for the shutdown.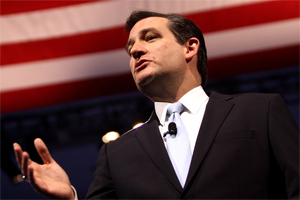 Meyer writes, "Now it is certainly plausible that CBS edited out the ending of the Cruz interview for time, however given that Cruz's comments were extremely critical of the president and came just two days before an embattled President Obama gives his State of the Union speech, the timing of such editing is highly inappropriate and unusual. [emphasis added]
"CBS should explain why it felt it appropriate to edit out a high profile senator accusing the President of the United States of targeting his politcal enemies. These are strong accusations leveled at the president, and CBS's viewers deserve to hear them," Meyer concluded.
Tulsa Today agrees. This silencing of a credible critic invited to appear must be explained clearly or CBS deserves to be labeled as propagandists in this instance on this so-called news show – yes, it is a credibility standard other journalists must require.  Click here to read the transcript and to view the CBS broadcast on NewsBusters.