Oleksandr Muzychko, better known as Sashko Bily, died in an alleged shoot-out with police in a cafe in Rivne in western Ukraine, the interior ministry told the BBC.
Muzychko was a leader of Right Sector, a far-right group which was prominent in the recent anti-government protests.
The shooting of Muzychko happened just hours after Russian Foreign Minister Sergei Lavrov had held talks with his Ukrainian counterpart Andriy Deshchytsia – their first meeting since Russia's move into Crimea triggered a diplomatic crisis.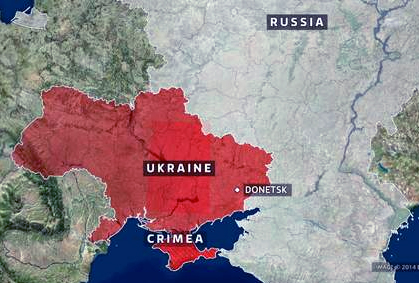 Ukraine's Deputy Interior Minister Vladimir Yevdokimov said Muzychko died after opening fire at police and Sokol special forces, who had raided a cafe to arrest him and fellow ultra-nationalists. The authorities described Muzychko as a criminal gang leader.
During the raid, according to officials, Muzychko fired at police as he was trying to flee, wounding one of them. Police then returned fire and captured him and three others in his "criminal gang", Mr Yevdokimov said.
"He was still alive as they were arresting him – but then the paramedics, called to the scene, found that he had died," Mr Yevdokimov said. The three arrested gang members have been taken to Kiev for questioning.
A Right Sector organizer in Rivne has now threatened revenge for the killing of Muzychko, saying he had not been summoned by investigators.
"We will avenge ourselves on [Interior Minister] Arsen Avakov for the death of our brother. The shooting of Sashko Bily is a contract killing ordered by the minister," said Roman Koval of the Right Sector in Rivne region, quoted by the Ukrayinska Pravda website.
Click here for more from the BBC.
By headline and featured quotes, the BBC asserts Muzychko was a "far-right" leader, but others call him a patriot. Regardless, there was no trial and police killed an opposition leader.