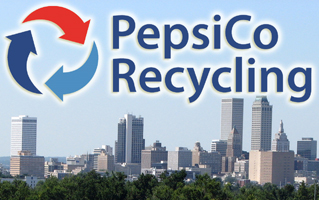 PepsiCo announced today it is rolling out its beverage recycling program to participating Warehouse Market and Fiesta Mart locations around the greater Tulsa metropolitan area. In total, PepsiCo will now provide more than 120 dedicated recycling bins to nearly 30 participating retail locations. Bins will be placed outside of store entrances and next to fuel pumps to help increase on-the-go recycling.

Introduced on Earth Day 2010, the PepsiCo Recycling program brings innovative recycling solutions to popular retail locations, communities and schools with the goal of increasing the U.S. beverage container recycling rate to 50 percent by 2018. Since its launch in 2010, recycling rates have already increased from 34 percent to 42 percent. PepsiCo recycling bins have helped divert more than 160 million bottles and cans from solid waste landfill.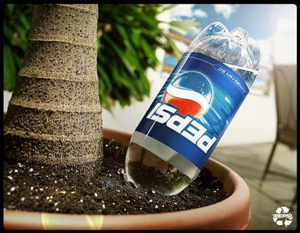 "Increasing beverage recycling, particularly when people are away from their homes, comes down to simplicity and accessibility," said PepsiCo Director of Sustainability Tim Carey. "We designed a bin that resembles a plastic bottle to stand out from a trash can, and always look to place it at convenient locations that people can easily identify."
PepsiCo first piloted its recycling program in Tulsa in 2013 with Kum & Go. In a nine-month period, the recycling initiative successfully diverted more than 6,000 pounds of recyclable materials from the landfill— an approximate 120,000 plastic bottles and aluminum cans in total.
On April 16, PepsiCo will join Tulsa environment organizations and non-profits at the 16th Annual Enviro Expo, from 11:00 a.m. to 2:00 p.m. on Tulsa's Main Street.
In addition to the many environmental and community benefits, every bottle and can recycled in a PepsiCo bin makes it possible for the company to donate funds to the Entrepreneurship Bootcamp for Veterans with Disabilities (EBV). Through the EBV program, post-9/11 disabled veterans receive training, at no cost, in entrepreneurship and small business management.
PepsiCo is a global food and beverage leader with net revenues of more than $65 billion and a product portfolio that includes 22 brands that generate more than $1 billion each in annual retail sales. The main businesses – Quaker, Tropicana, Gatorade, Frito-Lay and Pepsi-Cola – make hundreds of foods and beverages throughout the world. For more information, please visit www.pepsico.com.