Ukraine's interim president on Monday made a dramatic about-face aimed at defusing tensions in the separatist east by backing a national referendum on turning the ex-Soviet republic into a federation with broader regional rights.
European powers meanwhile sought to raise the pressure on Russia — which it blames for fomenting the tensions — with Britain calling for "further sanctions" on Moscow ahead of a meeting of EU foreign ministers.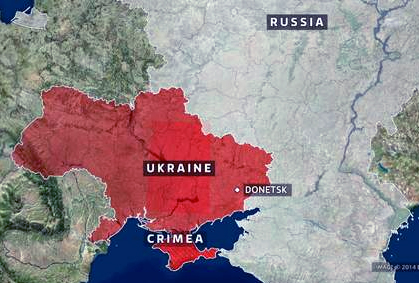 And Germany signaled its own resolve to take a tougher stance against a partner from which it imports 40 percent of its gas by noting there were "many signs" that armed groups operating in eastern Ukraine were "receiving support from Russia".
Interim president Oleksandr Turchynov's u-turn came only hours after pro-Kremlin militants who reject the authority of the new Western-backed leaders ignored an ultimatum to end their occupation of strategic buildings or face a "full-scale anti-terrorist operation" involving both internal security forces and army troops.
The coordinated raids and dual threat posed by Russia's deployment of 40,000 troops on Ukraine's border and warning of a possible gas cutoff have left Kiev's untested leaders desperately seeking Western help in averting a further dismemberment of their crisis-hit state.
EU foreign ministers — their capitals bracing for what might be the third halt in Russian gas supplies since 2006 — gathered in Luxembourg to discuss whether to pursue a third and most punishing-yet round of economic sanctions against Moscow.