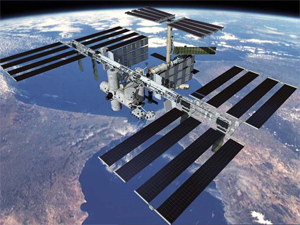 The Telegraph is reporting that Russia plans to deny the U.S. use of the International Space Station beyond 2020 and will bar its rocket engines from launching US military satellites to hit back at American sanctions imposed over the Ukraine crisis.
Russia's deputy Prime Minister Dmitry Rogozin announced a series of punitive measures on Tuesday against the US in response to sanctions imposed after Russia annexed Crimea.

The Space Station is manned by both American and Russian crew, but the only way to reach it after retirement of the NASA Space Shuttles is by using Russia's Soyuz spacecraft.
At a time when Moscow is struggling to reform its accident-plagued space program, Mr Rogozin said US plans to deny export licenses for some high-technology items were a blow to Russian industry. "These sanctions are out of place and inappropriate," Mr Rogozin said. "We have enough of our own problems."
Moscow's response would affect NK-33 and RD-180 engines which Russia supplies to the US, Mr Rogozin said. "We are ready to deliver these engines but on one condition that they will not be used to launch military satellites," he said.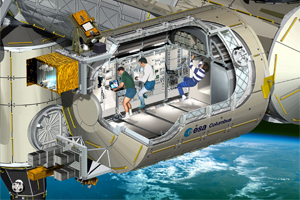 RD-180 engines are used to boost Atlas 5 rockets manufactured by United Launch Alliance, a partnership of Lockheed Martin and Boeing that holds a virtual monopoly on launching U.S. military satellites.
Mr Rogozin said Moscow was planning "strategic changes" in its space industry after 2020 and aims to use money and "intellectual resources" that now go to the space station for a "a project with more prospects".
He suggested Russia could use the station without the United States, saying: "The Russian segment can exist independently from the American one. The U.S. one cannot."
The US space agency NASA is working with companies to develop space taxis with the goal of restoring US transport to the station by 2017, but the United States currently pays Russia more than $60 million per person to fly its astronauts up.
Mr Rogozin said Russia will also suspend the operation of 11 GPS sites on its territory this June and seek talks with Washington on opening similar sites in the United States for Russia's own satellite navigation system, Glonass.
He threatened the permanent closure of the GPS sites in Russia if that is not agreed by September.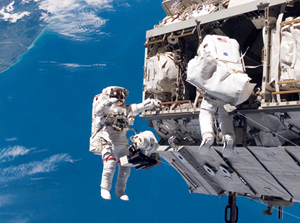 In addition to the hi-tech sector sanctions, the US has imposed visa bans and assets freezes on officials and lawmakers and targeted companies with links to President Vladimir Putin. The European Union has also imposed sanctions.
The Russian Foreign Ministry said earlier on Tuesday that the latest EU measures were an "exhausted, trite approach" that would only deepen discord and hamper efforts to defuse the crisis in Ukraine.
Related stories and video available from The Telegraph by clicking here.
To quote Shakespeare, "The lady doth protest too much, methinks" [Hamlet, 1602] as sanctions imposed on Russia because of the Ukrainian invasion and annexation may be beginning to work.