Saturday, May 17, 2014 marks the 27th annual Full Moon 5k Run/Walk and 1‐mile family fun run. The Full Moon Run is hosted by the Full Moon Café and will again benefit River Parks Authority. Net proceeds from the event are contributed toward operations and capital improvements at River Parks. The Full Moon Run has
contributed a cumulative donation of more than $80,000 over the past decade. Proceeds from this year's event will help maintain Park elements and amenities.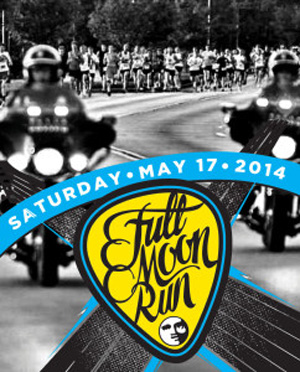 The race is scheduled for Saturday, May 17, 2014 at Veterans Park located at 21st and Boulder. Activities for this family event will begin at 6 p.m. featuring live music, a free "Kid's Zone" and a variety of food and beverages. The Full Moon 5k Run is the largest night run in the state of Oklahoma and has established itself as a community‐wide event for the Northeast Oklahoma region. More than 1,500 participants are expected for this year's event. The race is USATF sanctioned and certified and features a 5k Race/Walk and a 1‐mile family fun run along the Arkansas River.
New in 2014 – Ride and Roll! Bicycles and Longboards Welcome!
An all‐new addition to the Full Moon Run in 2014 is the "Ride 'n' Roll," an event that welcomes bicycles, longboards, skateboards, and rollerblades out onto Riverside Drive on a 5‐mile course! Ride 'n' Roll is perfect for anyone on wheels that would like to join in on the Full Moon fun. Starting at 7 p.m., Ride 'n' Roll is $15 for 12 and under and $25 for 13 and above. Participants can save money by signing up for BOTH the Ride 'n' Roll AND the Full Moon Run!
Registration is now open and available online at http://www.riverparks.org/fullmoonrun. Participants may also register in person through May 15 at either Full Moon Café location (1525 East 15th Street, Tulsa / 411 West Stone Wood Drive, Broken Arrow) or at either Fleet Feet Sports Tulsa location (KingsPoint Village, 6022 South Yale Avenue / Blue Dome, 418 E. 2nd Street). Registration begins at 10 a.m. and closes at 7 p.m.