The management of the Tulsa Revolution announced Monday that the league that they are a member of has been merged into a super league consisting of all of the teams in the Professional Arena Soccer League (PASL) and the teams in the Major Indoor Soccer League (MISL).  The league will be known as the Major Arena Soccer League and the super league will begin play in late October of this year.

The announcement was made Monday afternoon after the conclusion of league meetings in Baltimore, MD.
The MISL brand name dates back to 1978 and is arguably the most identifiable name associated with indoor soccer in the United States.  After the conclusion of the 2013-2014 season the MISL had six teams depart for the PASL, thus spurring the creation of the new league.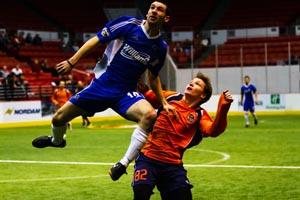 Currently, there are 24 teams form the U.S. and Mexico forming the MASL, with the possibility of more teams joining before the June 1 deadline. The MASL will play a 20 game regular season schedule (10 home/10 away) and the teams will be divided into multiple divisions based on geographical location. Three teams from each division will make the playoffs. Team schedules and the playoff format will be released in September.
The 2014-15 season will kickoff with a game between the Dallas Sidekicks and the Missouri Comets, Oct. 25. The season will run through March.
It's great news for the Tulsa Revolution who became a member of the MASL by attrition when the new league was formed.  "We are very excited about what this means to our team and our league," said Tulsa Revolution co-owner and general manager Adam Mellor. "The new league will feature the best teams and the biggest cities from both leagues, and will become the largest professional indoor league in North America."
The 2013-14 PASL season was the first for the Revolution who posted a record of 2-14 and the announcement of the formation of the new league and the possibility of a deeper talent pool has Mellor optimistic about next season.
"We are looking forward to building on last season, our first in the league, and providing exciting fast paced arena soccer action for the thousands of soccer fans in Tulsa area," Mellor said.