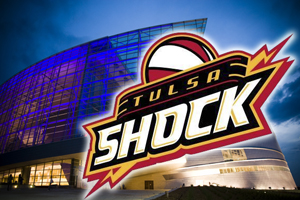 TULSA, OK— Skylar Diggins had 21 points and rookie Odyssey Sims had 11 but it was not enough to top the defending WNBA champions as the Minnesota Lynx (3-0) handed the Tulsa Shock (0-2) a heartbreaking 94-93 opening night loss in front of a nearly full house in the BOK Center on Friday night.
Diggins was one of seven Shock players in the game who were in double figures, along with Sims (13), Hooper (11), Johnson (11), Hodges (10), Paris (10) and Williams (10).  It ties a league record for most players to score in double figures in a single game.  Sims also set a career high in assists on the night with six helpers, and former OU Sooner Courtney Paris earned her second straight double-double, nabbing 12 boards and scoring ten points.

The Lynx roared out to grab a franchise record 35-21 lead at the end of the first quarter, and managed to extend the lead to 16 earlky on in the second quarter.  Minnesota led 60-48 at the half and held a large lead until well into the third frame before Tulsa began to respond.  The Lynx had a 80-69 lead with under a minute to go in the third quarter when the Shock mounted an 11-2 to pull within two points with four minutes left in the fourth.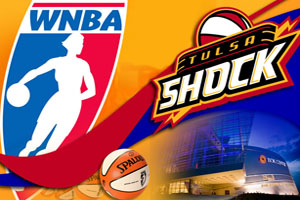 After the Lynx took a six-point lead with just under seven minutes left in the game, the Shock went on a nine-point run and took the lead after first round draft pick Odyssey Sims put in a layup to give the home side a 89-88 lead with 3:51 left, Tulsa's first lead of the contest.
Diggins dropped in a three-pointer to make the score 93-90 Tulsa with 64 seconds left, but Janel McCarville of the Lynx sank a jump shot and Maya Moore dropped two foul shots through, and that allowed Minnesota to hold on for the win.
Maya Moore of the Lynx had 38-points and 13 rebounds the high scorer in both of those categories for both teams. She was one of three Lynx players in double figures.  Seimone Augustus trailed her with 23-points and Lindsay Whalen had 11.  Maya Moore scored more than 30 points for the third straight game, tying a WNBA record. Three other players have scored more than 30 points in three straight games; Cynthia Cooper for Houston in 1997, Epiphanny Price for Chicago in 2012 and Angel McCoughtry for Atlanta in 2013.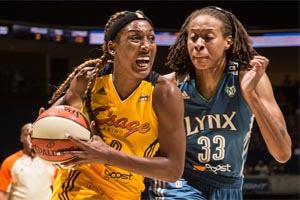 This week the Shock will travel back to San Antonio for a rematch with the Silver Stars on Wednesday night, and from there it's on to Phoenix for their first meeting with the Mercury on Friday.  Then it's a trip up to Key Arena in the shadow of Seattle's Space Needle for the Shock's first game with the Storm in the 2014 season.
The Shock's next home game is on June 7th when they take on Phoenix at 7pm in the BOK Center.