As we remember those who have given the ultimate sacrifice for freedom in America, one U.S. Marine Reservist sits in a Mexican prison for making a wrong turn at the border.  For over 60 days, at times chained in four directions and threatened with death Andrew Tahmooressi suffers every hour.
Tahmooressi, 25, of Weston, Fla., has been held in two Mexican prisons since being arrested while accidentally crossing into Mexico on March 31 with three weapons in his truck. According to Tahmooressi's defense attorney Alejandro Osuna, of Tijuana, Mexico, his client is facing federal charges for carrying a weapon intended for exclusive use by the military, carrying a weapon not registered in Mexico and possession of ammunition.
"These are very serious charges in Mexico," Osuna said.
Tahmooressi alleges that he made a wrong turn while leaving a San Ysidro, Calif., parking lot late on March 31 and was unable to avoid entering Mexico. Once across the border, he tried to turn around immediately. Osuna said his client fully disclosed to the customs agents he had weapons in his truck and that he did not intend to enter Mexico.
"Andrew said that one of the customs officials offered to escort him back across the border," Osuna said. "We need to find out what happened at that point."
Sgt. Tahmooressi was living in his truck having just arrived San Diego to seek VA assistance with PTSD.  He is a 2 tour OEF meritoriously promoted. His truck piled high with possessions as he searched for housing including his U.S. legally purchased firearms/ ammunition. With no intention to drive into Mexico; he explained he was lost to Mexican authorites but to no avail.
Arrested since 4/1/2014, during incarceration his life has been threatened and he sustained a neck wound requiring hospitalization and chained in a 4-point restraint for over 26 days. The affect of this unjust incarceration on a decorated combat Marine is despairing.
Osuna said there are few similarities between the Mexican and U.S. legal systems which adds to misperceptions and glacial speed in getting evidence entered and argued. The most glaring difference is that there's no jury — a judge will decide Tahmoressi's fate alone, unless a top government official intervenes.
"Unlike the U.S. system, where you will have a two or three day trial, in Mexico evidence and hearings are presented piecemeal," Osuna said.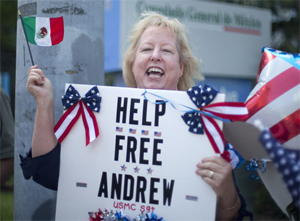 Tahmooressi's first court session is slated for May 28, where he will face the two customs agents and two soldiers involved in his arrest and be able to make a statement.
In Tahmooressi's favor is a 911 call he made explaining his plight and failed attempt to get back into the U.S. Osuna said he will also subpoena the video of the customs station when his client was arrested.
But those pieces of evidence, as Osuna predicted, won't be disclosed until later dates. A subsequent hearing to listen to the 911 tape is scheduled for June 4. On June 5, a court officer will accompany the lawyers to the actual border crossing.
To watch an interview with the family, click here.
To sign a White House Petition to help Sgt. Tahmooressi, click here.