The season was not exactly an ideal one for the Oklahoma Defenders indoor football team, but the Champions Professional Indoor Football League honored one of their charter members for excellence off the field by naming their owner, Lamar Baker executive of the year and the organization the league's community service award.
Baker is in his third season as Owner and GM of the Defenders. Oklahoma was among the league leaders in improved attendance and improved sponsorships from a year ago.  Baker is known throughout the league as a leader who never fails in terms of compliance with league rules and procedures.
The Defenders also produced their own audio broadcasts of all 12 games and produced outstanding broadcasts for AmericaOne internet pay-per-view video.  Under Baker's leadership, Oklahoma has won the CPIFL's Community Service Award in both 2013 and 2014.
For the first two seasons Baker played the dual role as the team's owner and defensive coordinator, retiring from coaching at the end of the 2013 campaign.
The Oklahoma Defenders remained committed to community service in 2014 and were extensively involved in Tulsa area events again this year.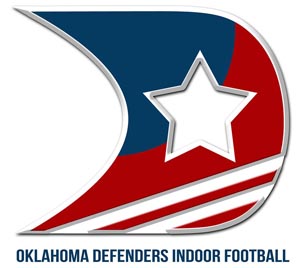 The players, staff, and coaches have volunteered at numerous events and programs including Bailey Medical Center's Play Program, Roses for Teachers, Dr. Seuss' Birthday Celebration at Remington Elementary School, Cox Business Center Community Night, Holy Family Cathedral NFL Play 60 Event, Finish Strong Initiative offering free haircuts, and the Polar Plunge benefiting Special Olympics.
The Defenders also participated in the Tulsa Downtown Parade of Lights, the Martin Luther King Jr. Parade, and the Route 66 Mascot Dash.  The Defenders Youth Football Association (DYFA), a football and cheer-leading program for children in Kindergarten through 6th grade, is also starting its second season this fall.
The Oklahoma Defenders will take the field again in March 2015 for their fourth season as a franchise and third in the CPIFL.  Season tickets are on sale now and more information on that and on the team can be found by visiting oklahomadefenders.com.