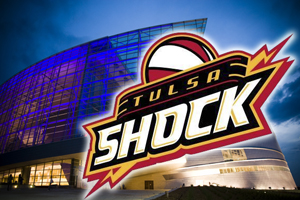 TULSA, OK—It was a bad night for the Tulsa Shock(7-14) on Saturday night as they lost their sixth straight loss as they fell to the (9-12) Washington Mystics 91-74 in front of 5,958 in the BOK Center. It was the Shock's fourth loss in a row at home and their first loss by 20 points or more since the end of May and beginning of June.
The Shock have lost all four out of the five games on this home stand thus far, beginning with a 78-76 loss to Connecticut last Saturday night, then a lost by an identical result to Indiana on Tuesday night and a 91-85 loss to the Minnesota Lynx on Thursday night preceded Saturday night's loss to the Mystics.
Saturday night's loss was brick throwing contest at the Washington basket, with Tulsa shooting only 39.4% from the field and completing only five out of 19 three-pointers. Glory Johnson was the high point scorer for Tulsa, chalking up 20 points and 11 boards. Skylar Diggins, who will represent Tulsa in next weekend's WNBA All-Star game in Phoenix next weekend, managed to put in 16 points and was the only other Tulsa player to score in the doubles. In putting in a double-digit performance in Saturday's game, Skylar Diggins has only failed to score in those numbers once in the 2014 season.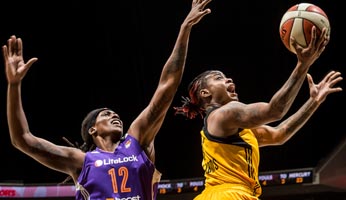 Tulsa's two players in double figures was in pallid comparison to the Mystics who had six players on their roster at that level. It was an all-around poor effort from the home team who have lost a total of four games in a row and have not won since a 96-83 win over Connecticut Sun on the road on July third.
For the Mystics, Emma Meesseman and Ivory Latta led the Mystics with 15 points each. Meesseman also had six rebounds and three assists. Kia Vaughn had a double-double, scoring 12 points and grabbing 10 rebounds. Monique Currie also put up a double-double with 11 points and 12 rebounds. Rookie Bria Hartley ended the game with nine points, five assists, five rebounds and two steals.
What killed the Shock tonight was missed free throws and ineffective rebounding, a lot of that was due to the Mystics effectively shutting down OU product Courtney Paris, who only managed to grab four boards in the game, which is down from her nearly 11 rebounds per game. It was also a case of Washington making long shots that forced the Shock to go for the block instead of trying for the rebound.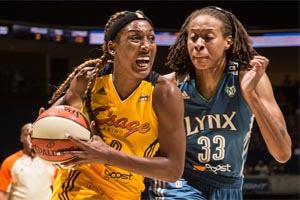 The loss drops the Shock to 7-14 on the season and the Mystics improve to 9-12. From here the Shock have a trip to the Target Center in Minnesota for a matinee game with the Lynx on Wednesday night before returning home for a 11:30am game with San Antonio in the BOK Center the following morning.
Tickets for that game and all remaining home games are available at the BOK Center box office.