TULSA, OK – The Tulsa Oilers announced on Wednesday the return of four players from last season's run to the Central Hockey League playoffs.  Forwards Adam Pleskach, Matthew Larke, and Chapen Leblond along with defenseman Eric Tallent, signed with the Oilers for the upcoming 2014-15 campaign.
The Oilers also revealed new jersey designs on Wednesday that included slight alterations on the home and away sweaters as well as a throwback scheme with pinstripes for their alternate jerseys which will be worn for all Sunday home games.

A 6-foot-2, 210-pound native of Beausejour, Manitoba, Pleskach emerged as one of the top rookies in the CHL during the 2013-14 season.  After beginning his Tulsa tenure with an eight-game point streak, Pleskach went on to record 59 points in 61 regular season games and led all CHL rookies with 33 goals.  The 26-year old was named to the CHL All-Rookie Team and chipped in seven points (3 goals, 4 assists) in six Oilers' playoff contests.
"Tulsa was a great place for me to play my first full season as a professional and I'm really looking forward to seeing what we can accomplish this coming season," said Pleskach, a product of American International College.  "We had a great group of guys last year and I was able to grow as a player.  I'm excited about continuing to develop my game and feeling the incredible support from the Oilers fans."
"Adam was a key part of our success last season and we're thrilled to have him back," remarked Oilers Head Coach, Bruce Ramsay.  "In addition to his size and strength, he has an amazing ability to find the puck and an unbelievable knack for scoring goals on rebounds and deflections.  He was one of our most consistent players last year and I know he can put up big numbers in this league.
Larke played 46 games for the Rapid City Rush last season and was claimed off waivers by the Oilers in mid-March.  The 5-foot-11, 190-pound winger posted four points (2 goals, 2 assists) in just his second game as an Oiler and played a massive role in Tulsa's Game 4 playoff victory over Denver with a goal, three assists, and a +4 rating.  Larke, who hails from Royal Oak, Michigan, turned pro in 2008 and has had stints in the CHL with the Dayton Gems and Bloomington Blaze.
"Quickness is the first thing that comes to mind when I think of Matt Larke's attributes," Ramsay said.  "He is one of the fastest skaters in our league and he can really make life difficult on opposing defensemen.  This league seems to get faster every single year and it's important for us to have a player like Matt on our roster who can open up the ice and create scoring opportunities."
After beginning the 2013-14 season with the Mississippi Surge (SPHL), Leblond, 6-foot-1, 200-pounds, appeared in 20 games for the Oilers and registered three points (1 goal, 2 assists) and 23 penalty minutes.  Leblond's first CHL goal was a game-winning tally in Rapid City on February 12 in only his second game in an Oilers' sweater.  Entering his third pro season, Leblond, a product of Terrace, British Columbia, has appeared in 98 career games and posted 213 penalty minutes.
"Chapen definitely added an element of toughness and grit to our team at the end of last season," recalled Ramsay.  "He's young, he's hungry, and I think he'll come into this season with something to prove.  I believe he can be a very effective two-way forward in our league and I'm excited about the potential that he has to bring a lot of energy to our team."
As half of the Oilers' top defensive duo last season, Tallent established himself as one of the most dependable blue-liners in the CHL and recorded a career-high 17 points (4 goals, 13 assists) in 54 games.  Tallent, a native of Garland, Texas, has increased his point total in each season as a professional.  A 6-foot-0, 195 pound rear-guard, Tallent saw heavy minutes on the Oilers special teams units and was consistently tasked with shutting down the opposition's top forward line.
"Every time Eric took the ice, I knew I could count on him to do his job and do it well," said Ramsay.  "He's an extremely smart and extremely tough hockey player who was never afraid to go up against bigger players and never backed down from anyone.  Eric was always dependable in our own zone and as good as he was, I know he can still improve.  It was very important for us to bring Eric back to Tulsa."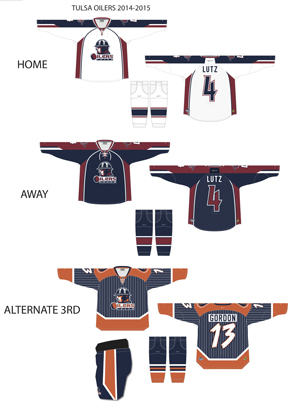 Tulsa's home and away jerseys for 2014-15 will continue to feature the franchise's primary colors of navy blue, maroon, and white.  The horizontal band that ran around the mid-section on last season's sweaters has been removed in favor of color panels down the side.  A thick stripe runs the length of each sleeve while the secondary oil-drop logo remains on the shoulder.  The Oilers' alternate jersey is a modified version of their mid-90's uniform featuring white pinstripes on a navy background and orange trim.
The new sweaters are available for pre-order at the Oilers recently remodeled website, www.tulsaoilers.com.  The official site of the Oilers has been given an updated home page complete with new graphics, and a new, easier-to-navigate, menu bar.  Designed by Quantus Creative in Tulsa, the website will be more efficient for fans who want to purchase tickets, get the latest info on the team, or learn about upcoming promotions.
More player signings will be announced in the coming weeks as the Oilers continue to build their roster for their 23rd consecutive season of hockey in the CHL.