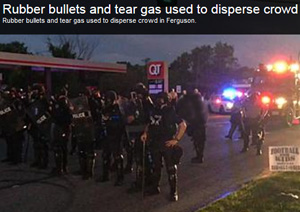 The St. Louis Post Dispatch is reporting tension stayed high and raw Monday as the St. Louis region waited for answers in the fatal shooting of an unarmed teenager by a municipal police officer.
In another day of fast-moving events, the FBI promised to investigate the killing of Michael Brown, 18, on Saturday by a Ferguson police officer. Brown's parents called for an end to the violence while strongly disputing the police version of their son's death. More than 1,000 people observed a moment of silence at a meeting called by the NAACP.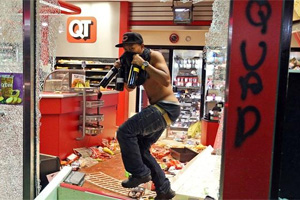 Throughout the day, protesters continued to face off with police, and as the sun set, lines of police in riot gear fired tear gas to disperse protesters, telling them it was time to go home. By midnight, the situation was quiet.
St. Louis County Police and the FBI promised thorough investigations into the shooting of Brown outside an apartment complex in the 2900 block of Canfield Drive. The address is just east of a stretch of West Florissant Avenue, in the eastern corner of Ferguson, that was the focus of violence and looting Sunday night after a day of peaceful protest.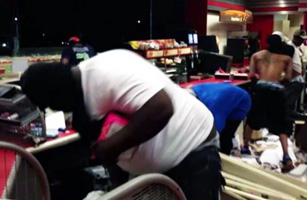 Police fired the tear gas into an increasingly unruly crowd that had reformed near the QuikTrip at 9240 West Florissant Avenue, looted and torched Sunday. The gutted store was ground zero for protests all day Monday.
Police, backed by a SWAT armored car, blocked both West Florissant and the entry to Canfield Drive, scene of the killing on Saturday afternoon that touched off the protests and violence. All but a few protesters had retreated from the scene by 9 p.m., and police held their positions in the streets.
Two miles to the south, an overflow crowd observed a moment of silence at Murchison Tabernacle CME Church, 7629 Natural Bridge Road in Normandy. Cornell Brooks, the new national president of the NAACP, pleaded for calm as the community responds to the "unfolding drama."
"Martin Luther King did not live and die so that we might steal in the name of justice in the middle of the night," said Brooks, who flew to St. Louis for the gathering, sponsored by the organization's St. Louis County branch.
The shooting and rioting have drawn international attention.
Click here for more from the St. Louis Post Dispatch.