Updated: Sen. James Inhofe (R-OK), the highest-ranking Republican on the Senate Armed Services Committee, told Oklahoma City FOX affiliate KOKH 25 that because of the threat of groups like ISIS "we're in the most dangerous position we've ever been in as a nation."
The quotes have gained national attention with many noting that Inhofe said ISIS is "Rapidly developing a method of blowing up a major US city." A video of the interview with notes from the National Journal and others follow with an update of ISIS threat on American cities.

The alarms from leaders about ISIS are growing on both sides of the political divide as James Kitfield writes for the National Journal.  Under the headline, "Why Washington Should Declare War on ISIS" he begins: When a centrist Democrat, a Republican hawk, a libertarian, and a tea partier all find common ground on Capitol Hill, it's worth noting this rare outbreak of bipartisan consensus. Sens. Tim Kaine, James Inhofe, Rand Paul, and Ted Cruz all believe the White House should seek new approval from Congress for U.S. military operations in Iraq. President Obama should give the senators exactly what they are requesting.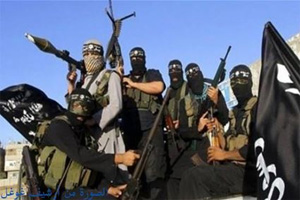 As Obama said during a press conference earlier this week, the administration is already closely consulting Congress on the Iraq crisis to show a united front. ISIS's brutal execution of American journalist James Foley is just the latest atrocity to clarify the growing threat posed by what is arguably the most powerful terrorist group in history.
"The United States of America will continue to do what we must do to protect our people. We will be vigilant and we will be relentless. When people harm Americans anywhere, we do what's necessary to see that justice is done and we act against ISIS, standing alongside others," Obama said in comments about Foley's execution. Even as he spoke, Pentagon officials confirmed that they are contemplating sending additional U.S. troops to Iraq, to help secure Baghdad. "From governments and peoples across the Middle East, there has to be a common effort to extract this cancer so that it does not spread," Obama said.
And yet acting under existing authorities in Iraq, the administration's response to the spread of the ISIS cancer has so far been reactive and piecemeal, constantly ceding the initiative to the ISIS extremists.
When explaining U.S. airstrikes that enabled Iraqi and Kurdish forces to recapture the Mosul Dam in his press conference, for instance, Obama said he was acting to protect U.S. personnel in the Baghdad embassy hundreds of miles away. Really? Such tortured explanations of the logic behind the use of U.S. military force may comport with the commander in chief's constitutional authority to protect American citizens, but sound an uncertain trumpet to allies in the region who are desperate for U.S. leadership.
Click here for more from the National Journal.
ISIS released the propaganda video showing photojournalist Foley, an American Journalist beheaded. Killed because he was an American; Foley had been held and presumably tortured after abduction from Syria in November 2012. The footage shows a masked man – speaking English with an British accent – cutting Foley's head off.
In the five-minute video posted on social media sites by Islamic State sources, the man says Mr Foley was being killed because Barack Obama had ordered airstrikes against ISIS positions in northern Iraq. The journalist, dressed in an orange jumpsuit like those worn by Guantanamo inmates, is seen kneeling in the desert before he blames the US for his death, in a statement presumably prepared by his abductors. He then says: "I wish I had more time, I wish I could have the hope of freedom and seeing my family once again, but that ship has sailed." He is then beheaded.
Click here for the report from Sky News.
Click here for reporting on the same topic by the Daily Mail.
The Blaze has boosted American Veteran Nick Powers' response to this cowardly act by crazed religious fanatics first provided by War Fighters Foundation. Click here for more.
Powers, was interviewed today on Fox News below.
Update:  John Dodge with CBS Chicago reports that over the past six years, Chicago has become a top potential target for international terrorists, a top security expert said Friday, making the posting of a veiled threat by Islamic radicals on Twitter a higher cause for concern.
"Many organizations refer to Chicago as Obama Town," said CBS 2 security expert Ross Rice, a former top FBI agent in Chicago. Under President Obama, the U.S. took out Osama bin Laden, and used repeated drone strikes to weaken terror networks.
In the meantime, the U.S. government on Friday issued a security bulletin to all U.S. law enforcement in light of the overall threat posed by Islamic State, commonly known as ISIS or ISIL.
The ominous post on Twitter, purportedly from somebody connected with Islamic State, shows a photo of the Old Republic Building, 307 N. Michigan Ave., in Chicago and the White House.
The handwritten note is dated June 20. The text reads:
#AmessagefromISIStoUS
We are in your state
We are in your cities
We are in your streets
You are our goals anywhere.