The Tulsa Roughnecks FC debuted their logo crest and jersey "kits" on Tuesday afternoon at ONEOK Field in downtown Tulsa. The team was announced in December 2013 as an expansion franchise of the United Soccer League (USL PRO) and will begin their inaugural season in March 2015.
The team's official logo will consist of a stylized depiction of an oil derrick in the team colors of orange and navy blue with the team name emblazoned boldly on a white shield.  The renewed Tulsa Roughnecks FC logo is a tribute to the Tulsa's legacy as the "Original Oil Capital of the World" and to the hard-working roughnecks who put Tulsa on the map.  It also mimics the "oil derrick" entry gate that is located on the southwest corner of the stadium near the right field picnic berm at ONEOK Field.

"Our Roughnecks are a new team in the USL PRO league, and we wanted to give it a new and modern look," said Roughneck General Manager Mike Melega.  "At the same time, we wanted to pay heritage to the original Roughnecks who helped popularize the game of soccer in our city, and we feel like we have done that with our third kit."
The Roughnecks will wear orange jerseys at home with either orange or white shorts and on the road they will wear navy blue jerseys with either navy or white shorts.  A third uniform pays tribute to the Tulsa Roughnecks of the old North American Soccer League that played in H.A. Chapman Stadium (known then as Skelly Stadium) in the late 1970s and early 80s, and that kit will be all white shirts and shorts with red and black stripes running down the shoulders and onto the legs of the shorts.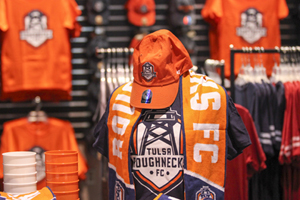 All of the teams uniforms will have a sublimated star with the number 83 inscribed on it to pay tribute to the 1983 NASL Champion Roughnecks.  It is anticipated that all three versions will eventually feature a sponsor logo or message on the fronts.
All of the kits will be manufactured by Admiral Sports, who supplied the original kit for the Roughnecks in 1978.  Admiral has supplied uniforms for some of the biggest soccer teams in the world for 100 years.
The Roughnecks also announced that a full line of merchandise featuring the team's new logo and colors is now on sale.  Items are available at the Black Gold Outfitters store at ONEOK Field, Monday through Friday from 9AM until 5PM and during the Tulsa Drillers playoff games this week.
Season tickets for the Roughnecks inaugural 2015 season in USL PRO are also now on sale with the club taking $75 per seat deposits to help fans ensure seating priority for games at ONEOK Field. Tickets can be purchased in person at ONEOK Field, over the telephone by calling (918)744-5901 or online at TulsaRoughnecksFC.com.