Amid cheers from his fans in the Grand Lobby of the BOK Center, Tulsa Oilers head coach Bruce Ramsay announced that Michel "Mike" Beausoleil would return for a seventh season sporting the number 90 in an Oilers jersey.
The signing of Beausoleil adds yet another returning player for the 2014-15 campaign, and it brings needed strength and leadership to the Oilers corps of forwards that Ramsay desires on his team.
"There have been many changes and many ups and downs during my time in Tulsa but Bobo (Beausoleil's nickname) has been the one constant," remarked Oilers Head Coach Bruce Ramsay, who heads into his 6th season behind the bench.  "He's been the face of our franchise for many years and our fans absolutely adore the way he plays.  He still possesses a great shot and a good scoring touch and doesn't show signs of slowing down."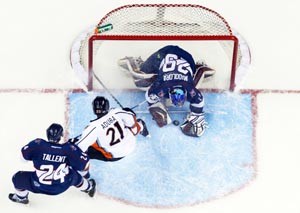 Ramsay coached Beausoleil in his first full season as a professional when he played for the Port Huron Beacons in 2002-03, and in his seven seasons as a Tulsa Oiler, the 34-year old from Montreal has established himself and his family in the Oil Capitol and wants to see himself retire as an Oiler, whenever that day comes.
"Tulsa is my home and I love playing here in front of these fans," stated Beausoleil.  "It would be hard for me to imagine playing anywhere else or finishing my career anywhere else.  The people here have been so good to me and I want to bring them a championship.  I'm looking forward to this season because I think we can do something very special."
Beausoleil joined the Tulsa Oilers in 2008 and as of the end of last season, he has played 337 games in an Oilers jersey, which elevates him to the fourth place position of games played by current and former Tulsa Oilers dating to 1992 and each season saw him ringing in near the top of the stat registers in every season.
A veteran of 796 professional games, Beausoleil also stands 5th in Oilers' goals (122), and assists (164), and 4th in franchise points (286).  He is the only player on the Oilers' current roster who has played a part in every single season at the BOK Center and is one of only two players on the team (Ryan Cramer) to have participated in both of Tulsa's last two playoff runs.
He spent the summer rehabilitating a shoulder injury that he suffered in the playoff series with Denver and Ramsay commented that he is expected to be ready for the teams annual fall camp scheduled to start on October 13th.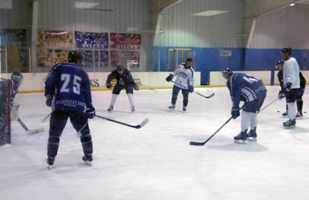 Also signed by the Oilers were Bobby Watson, Jason Cohen and Victor Beaulac. The signing of Beausoleil, Watson, Cohen, and Beaulac pushes the Oilers' current roster to 27 players.
The Oilers open training camp on October 13th, and will play two exhibition games against Allen and Wichita. They'll open the season against the defending champion Allen Americans on October 24th on the road in Allen and two days later they will open the home side of the schedule against the Wichita Thunder at 4:05pm in the BOK Center.