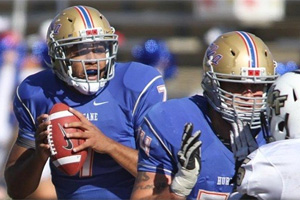 After a full week off and time to reflect over two lopsided losses against Oklahoma and Florida Atlantic, Golden Hurricane head coach Bill Blankenship is ready to make a few needed changes to his teams game plan when the Texas State Bobcats come to H.A. Chapman Stadium on Saturday night.  It will be the second visit for the Bobcats in 11-years and in the other meeting the Hurricane handed them a 41-15 loss.
Coach Blankenship has changes planned that extend to the coin flip.

"We have scripted a touchdown for the first series. If we win the toss I'm going to take the ball. That's different from what we've done in the past, and just see if that will change the game plan." Blankenship said at his weekly press conference. "I'm a little bit serious; we need to change things up. I'm generally old school where when we win the toss, if everything else is the same you defer. I might take the ball and see if we can get something going. That's a 50% chance we'll get that opportunity."
When Texas State invades Chapman Stadium on Saturday they will do so sporting the same record as TU at 1-2, and they too are coming off tough losses to Navy and Illinois.  Coach Dennis Franchione and the Bobcats undoubtedly have the same determination to level off their win-loss record on Saturday that TU does.
"This is a good football team that sits with an identical record to ours." Blankenship said, "They have tough losses to Navy and Illinois. Both of those games they lead until late in the game. This is a very well coached team. Most of you are familiar with Dennis Franchione and the quality of coach and coaching staff that he has and has been and still is. He has done a great job there at Texas State.
"Offensively, which is where I think coach Franchione's fingerprints lie the most on that team, they are very efficient. They'll run the option game out of the spread looks that we do now in this generation.  He will attack every area of the field. He does a great job with his schemes. Their quarterback is very efficient; he's handling the ball, faking the ball – they are doing a lot of run-pass options with him and he has done a really nice job of handling their offense," Blankenship said.
While sitting below .500 is not a good thing, Blankenship downplays the idea that a win against the Bobcats on Saturday is a "must-win" scenario.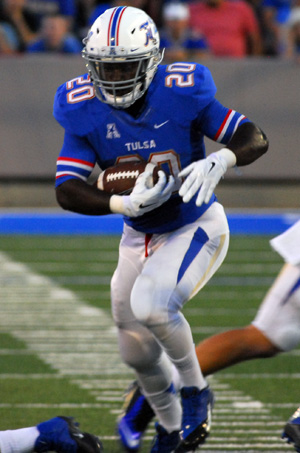 "We see it as a must-win game, but I think we would see it that way anyway." Blankenship said, "Any time you're in on a team and it goes this way, you can't wait to get it going the other way. From that standpoint, you've got to have a 180 at some point and right now for us the 180 would be a victory.
"I don't have a problem calling it a must-win, but again, I'm not going to come in here next week and say, 'Shoot, we only got nine more so I guess the rest of the season is done,' if it doesn't go well.
"What I'm looking for is for this team to make valid improvement. And if we do that, I believe we will win. But regardless of that, if we improve this football team then we're going in the direction that we want. This has to be a weekly improving football team getting into our conference race," Blankenship added.
One thing hindering the Hurricane is the slow starts on the first series.  In TU's first three games, the opposition has gained 30+ yards on 14 plays from scrimmage. On those 14 plays, the opponent has averaged 55.9 yards per play and has scored 6 touchdowns . . . that equals 782 yards on just 14 plays for 48-percent of the opponents' total offense.  Tulane gained 223 yards and 2 TDs on 3 plays, Oklahoma gained 254 yards and 2 TDs on 5 plays and FAU gained 305 yards and 2 TDs on 6 plays.
On the bright side, once things settles down TU gains a measure of control back.  On the remaining 194 plays, Tulsa has held the opposition to 835 yards for a 4.3- yard average per play.
Against Tulane, Tulsa held the Green Wave to 4.2 yards (296 yards) on the remaining 71 plays, OU averaged 5.1 yards (326 yards) on their remaining 64 plays and FAU was held to 3.6 yards (213 yards) on their other 59 plays.
The best way the Golden Hurricane can stop the bleeding and mitigate the opposition getting the fast start is to have the defense contain the "big play".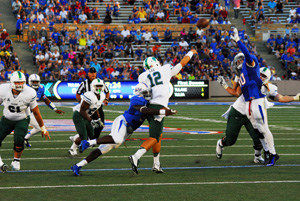 "The big play issue has certainly been the glaring black eye for our defense so far. I know just in the last game, I can't remember the numbers exactly, but we can go back to six or eight plays in the last two or three weeks and you go up to maybe twelve if you go back to the Tulane game, that those plays in and of themselves generated 600 or 700 yards." Blankenship stated.
"Frankly, it's very tough on our defense because they don't feel like that's the way they've been playing. Their effort has been great." The coach added, "We've not played with a lack of effort but we've missed some tackles, that was one of the issues, and we've had some schematic issues as well and we have addressed those."
One component of the Hurricane defense that will not be part of the Texas State game, and very likely the remainder of the Golden Hurricane's 2014 season is sophomore defensive tackle Jesse Brubaker, who was injured during practice last week.
Apparently, Brubaker took a thumb to his left eye that created enough pressure to fracture the orbital bone.  Team doctors performed emergency surgery and he is expected to be ready for next season.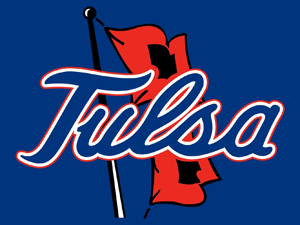 Despite being in a somewhat shallow hole Blankenship still has enormous faith is the potential of his team.  "It's been an interesting time to reflect, on the bye-week." Coach Blankenship said, "I love this team's commitment. They are a very diligent group and they believe in each other.  These guys were very anxious to get back out on the field. They know they haven't played their best football yet. There is a belief in their abilities and talent and they want to be coached. They are very eager. They want to be better and, boy, is that a dream for coaches."
Kickoff for Saturday's contest is set for 7:00pm in Chapman Stadium.  Next up after Texas State are two road games at Colorado State and Temple before homecoming on October 18th against South Florida.