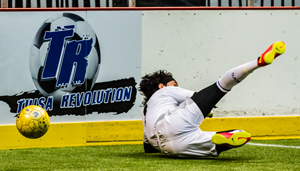 TULSA, OK—The Tulsa Revolution indoor soccer team hosted the Mexican National Indoor team on Saturday night in the Cox Business Center arena Saturday night, in what Revolution head coach Dave Yates said was a "wake-up call" the more experienced Mexican squad handed the Revs an 11-3 loss.
Christian Mata, David Poneys, and Mohammed Shaban scored for the Revolution, with Mata's goal coming near the end of the second quarter, and Poneys and Shaban's goals coming in the games fourth and final quarter.
"I got a good idea of what we need to work on," Yates said, "Technically, we need to work on retaining possession and avoiding turnovers. The main thing was that the Mexicans were a team who has been together for a number of years and we are still just getting to know one another."
The Revolution have two weeks before they begin the 2014-15 Major Arena Soccer League season on November 8th on the road in Park City, Kansas when they take on the Wichita B-52's.
The home opener in the regular season for the Revs is on November 14th when Oxford City FC comes to the Cox Business Center.
Mexico 11, Tulsa 3
Mexico 2 4 2 3 — 11
Tulsa 0 1 0 2 — 3

First quarter: 1, Mexico, Warner Recendez, 2:19. 2, Mexico, Migual A. Vaca, 11:09.
Second quarter: 3, Mexico, Warner Recendez, 4:21. 4, Omar Santillan, 6:23. 5, Mexico, Jair Aleman, 9:48. 6, Tulsa, Christian Mata, 13:55. 7, Mexico, Ignacio Carrazco, 15:00.
Third quarter: 8, Mexico, Efrain Martinez, 6:15. 9, Mexico, Jair Aleman, 14:40.
Fourth quarter: 10, Tulsa, Michael Poneys, 2:30. 11, Tulsa, Mohammed Shaban, 3:40. 12, Mexico, Efrain Martinez (free kick) 5:40. 13, Mexico, Joshio Sabdoval, 8:20. 14, Mexico, Bryon Alvarez, 12:56.
Photos by Les Stockton, Tulsa Today