Politico is reporting that the Democratic Senatorial Campaign Committee has canceled its advertising reservations for Sen. Mary Landrieu ahead of the December runoff in Louisiana.
The committee canceled all broadcast buys planned through Dec. 6 in the state's five major media markets, three sources tracking the air war told POLITICO. That's about $1.6 million in air time. The DSCC is in the process of canceling an additional $275,000 in cable placements, according to buyer sources.

"Mary Landrieu is a proven run-off winner and we support her 100 percent," said DSCC spokesman Justin Barasky. "We are going to make ongoing determinations on how best to invest in the race. We made the initial reservation when there were concerns that the rates would skyrocket but they have stabilized, giving us more flexibility to make week-to-week decisions."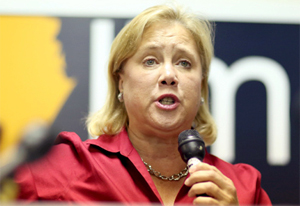 Landrieu underperformed public polls on Tuesday and finished with 42 percent, just 16,000 more votes and 1 percentage point more than her Republican opponent Bill Cassidy. Her showing came even with tea party candidate Rob Maness receiving 14 percent.
Cassidy is behaving like a frontrunner Politico reports as on Tuesday night, Landrieu challenged him to six debates. He countered Thursday by saying he will only agree to one – the Monday before a Saturday runoff.
To get the unpopular Barack Obama's name in stories about his refusal to debate more – Cassidy added his own challenge. "For every time Senator Landrieu barnstorms the state with Barack Obama, I will participate in another debate," he said in a press release.