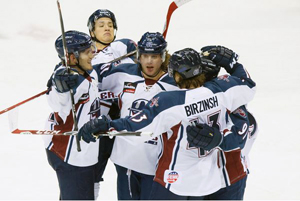 TULSA, OK—The Tulsa Oilers are thanking their lucky stars  that ugly wins count the same as pretty ones do as they survived a near implosion in the second period of their game against the Wichita Thunder on Tuesday night in the BOK Center.
The Oilers roared out to a 2-0 lead in the first period with a shorthanded, starting when Matt Larke caused a turnover in the neutral zone and fed the disc to Steve Mele, who deked the puck around a Thunder defender and backhanded it underneath Wichita goalie Tim Boron to give the home side a 1-0 lead.  Tulsa's second goal of the opening period came after the Thunder successfully killed a 5-on-3 penalty in the middle of the first period.

Off a clean face-off win by Jeff Jubinville, Tulsa winger T.J. Caig rifled a one-timer over the shoulder of Boron to give the Oilers a 2-0 lead.  Caig netted his eighth goal of the season and extended his team-high point streak to six games. Jubinville would score the final goal in regulation time when he took a pass from Kyle O'Kane and lofted it over Boron to give the home side a commanding 3-0 edge.
That edge did not last long.
The Thunder fired a barrage of shots on Oilers goalie Kevin Carr, some 26 in all which shattered the previous "shots-against" record of 14 he faced in one period against Rapid City.  One of those was bound to go and it turned out two did starting with a Kirill Tulopov score with seven minutes remaining in the second period and a goal from Ian Lowe cutting the Tulsa lead to a goal just 45 seconds later.
The Oilers three-goal lead officially evaporated at 16:41 of the third period when Kenton Miller slammed the puck in behind Carr to even the score at 3-3.  Tulsa survived the five minute extra time largely on the strengths of some great saves from Carr, who stoned all four Wichita shooters in the shootout.  Adam Pleskach and T.J. Caig scored for Tulsa allowing the Oilers to escape with a 4-3 victory.
The Oilers improve to 6-4-1 on the season and 4-2-1 in the BOK Center.
The win allows them to capture, at least for now, first place in the ECHL Central Division.  Tulsa visits Quad City on Wednesday night and will conclude a short, two-game road trip in Missouri on Friday.
The next home game for the Oilers is this Sunday afternoon, once again against Wichita.