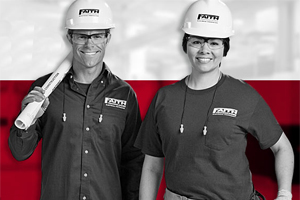 Faith Technologies, an electrical and specialty systems contractor, is now recruiting to fill 200 full-and part-time positions to accommodate continued growth and an expanded presence in the Tulsa market. Positions include both those on the job site as well as in the office.
Faith Technologies is currently hiring for electrical helpers, electrical apprentices, journeymen, foremen, superintendents, material handlers, Trimble operator, human resources assistant, detailers, estimators, preconstruction manager, project coordinator, assistant project managers, onsite safety manager and specialty systems project manager.

"Faith Technologies is committed to supporting employment growth in all of our markets and is excited to bring more jobs to the Tulsa area," said Michael Bowman, vice president. "As we continue to build on our five year history in the market and expand our customer base in Oklahoma, we want to ensure we are providing the value-driven service our customers have come to expect. We are eager to add to our team, and to continue growing Faith Technologies' presence within the Tulsa market."
Faith Technologies encourages those living in Arkansas, Kansas, Missouri and Oklahoma to apply. Interested applicants living in states that have reciprocity with the Oklahoma journeyman license are also encouraged to apply for the openings in Tulsa. Those states include Alaska, Arkansas, Colorado, Idaho, Montana, Nebraska, New Mexico, South Dakota, Texas and Utah.
Top pay, excellent benefits, robust training program and strong culture of safety are just a few of the attributes that have made Faith Technologies one of the largest electrical and technical service contractors. Applicants can visit www.faithtechnologies.com/careers to view a complete list of job openings and apply.