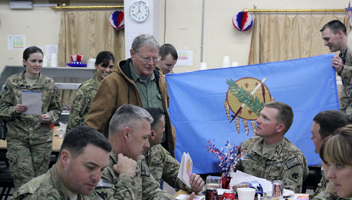 WASHINGTON, D.C. – U.S. Sen. Jim Inhofe (R-Okla.), ranking member of the Senate Armed Services Committee (SASC), today announced provisions in the fiscal year 2015 National Defense Authorization Act (NDAA) that impact the state of Oklahoma. The NDAA was introduced yesterday in the House of Representatives, and was authored by Inhofe, SASC Chairman Carl Levin (D-Mich.), House Armed Services Committee (HASC) Chairman Buck McKeon (CA-25), and HASC Ranking Member Adam Smith (WA-9).

"I am pleased that we are one step closer to passing vital legislation supporting our men and women in uniform," said Inhofe. "Despite limitations presented by defense budget cuts, my colleagues and I were able to put together a bill that meets our current national security requirements while also caring for the well-being of our servicemembers and their families. This legislation also includes several provisions critical to Oklahoma, including the preservation of the Airborne Warning and Control Systems aircraft.
"I am proud that the legislation cuts costs and finds efficiencies within the defense budget through smarter weapon purchases and by limiting the President's costly green agenda. We were also able to successfully prevent the President's proposed cuts to military benefits, to include protecting commissary benefits and blocking the President's requested higher fees for TRICARE enrollment.
"Due to historically steep defense budget cuts provoked by the President's sequestration, we granted the request of the Joint Chiefs to slow the growth of inflation to the Basic Allowance for Housing (BAH) by 1 percent for fiscal year 2015. This only affects those who make a permanent change of station move in 2015 and live off base at their new location. I have been assured by DOD that this reduction will still allow servicemembers to find off-base housing across the nation within their allotted BAH. Vance and Altus Air Force Bases are exempted from the BAH change because DOD has classified them as remote locations. The legislation also authorizes TRICARE co-pays to increase roughly $3 for prescriptions not purchased on base. The money saved from these measures equals $266 million and will go to support necessary training and resources to enable our servicemembers to carry out their missions effectively and return home safely to their loved ones. These were difficult decisions for me and my colleagues, but until sequestration is addressed, small adjustments needed to be made in the budget to avoid drastic reductions in military readiness that could risk the lives of our servicemembers.
"I strongly urge my colleagues to support the passage of this legislation before the end of the year. It is critical for maintaining congressional oversight of the Obama Administration and for ensuring our service members have the necessary resources to safely and effectively protect the interests of America."
Provisions impacting Oklahoma include:
Base Realignment and Closure Prohibition
Inhofe supported language that makes clear that nothing in the FY'15 NDAA shall be construed to authorize a Base Realignment and Closure (BRAC) round next year. Inhofe believes that the United States has reduced force capability to an unacceptable level, and that it should not be brought down any further in the near-term. He also recognizes that our national security has an immediate fiscal crisis and the defense community should not bear the near-term costs of a BRAC round in this tough economic climate for savings that will not be realized for another 20 years.
Retaining AWACS
Inhofe supported language that will prohibit the Air Force from retiring or preparing to retire any Airborne Warning and Control System (AWACS) aircraft or making any significant changes in AWACS personnel levels until next year. For the past two decades, AWACS have been under constant, heavy demand, supporting overseas contingency operations as well as homeland defense missions.
The President's budget proposal reduced the number of AWACS airplanes by 7 aircraft (or 25 percent), which would inactivate the 513th Reserve Control Group at Tinker Air Force Base and devastate a key military capability. This 520-member unit is the only one in the Air Force Reserves that flies and maintains this aircraft. Inhofe's amendment prevents this from taking place.
Installation Support Services Agreements
Because current authority to implement military installation shared services agreements conflicts with existing acquisition rules and regulations, there have been major delays in implementing intergovernmental support agreements, including the partnership plans between Tinker Air Force Base and Midwest City. The Department of Defense and Congress have agreed that a clarification is necessary to ensure the authority of shared services survives. Sen. Inhofe successfully included clarification language to restore the advancement of such shared services agreements like the waste management agreement between Tinker and Midwest City.
Natural Gas Vehicles
Sen. Inhofe included language that incentivizes the production of natural gas powered vehicles by allowing automakers to earn regulatory credits for producing dual-fuel powered vehicles that run on both natural gas and gasoline. Current law allows automakers to earn credits from vehicles that run exclusively on natural gas, but a cap on dual-fuel credits precludes automakers from earning them for natural gas dual-fuel automobiles.
These natural gas dual-fuel automobiles are widely seen as the key to encouraging broad consumer adoption of natural gas as a primary transportation fuel. Today, in many places there is not enough natural gas refueling infrastructure to ease drivers' concerns that they will be unable to find a natural gas refueling station when they need it. Automakers are beginning to produce these vehicles, and they deserve to earn the regulatory credits that were designed for them to facilitate compliance with the Department of Transportation's Corporate Average Fuel Economy (CAFE) standards.
C-130 Air Modernization Program (AMP)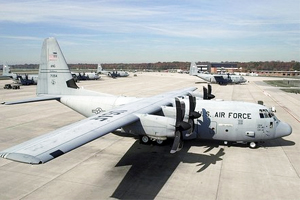 The President's FY'15 budget failed to include funding for the C-130 Avionics Modernization Program. AMP was the program of record for modernizing legacy C-130 aircraft until the FY'13 budget when the Air Force announced a decision to cancel AMP.
The program was already in low-rate initial production and had delivered five aircraft, four additional kits and training devices. The proposed avionics modernization alternatives to the AMP program fail to fully comply with future air space restrictions and will impact the Air Force's ability to use certain airfields as a result of the incompatible equipment. Inhofe included language that stresses strong support for continuing the modernization of this aircraft, authorizes an additional $35.8 million for procurement and installation of C-130 AMP kits, and directs the Air Force to obligate the fiscal year 2014 funds authorized and appropriated for AMP to conduct such activities as are necessary to complete testing, production, and installation of the modernization kits. This will allow companies such as Boeing in Oklahoma City to ensure an operational capability of the C-130 fleet.
KC-46
Inhofe supported full funding of $1.56 billion for the KC-46A tanker aircraft. This funding will keep delivery of the first KC-46A to Altus Air Force Base on track for 2016.
Paladin Integrated Management Program (PIM)
The Paladin Integrated Management (PIM) program is key to the modernization of the Paladin Self-Propelled Howitzer and the U.S. artillery force. Sen. Inhofe supported the Army's request of $330.7 million for the continued development and prototyping of the next generation Paladin self-propelled howitzer artillery system. The modernization and integration is completed at the BAE System facility in Elgin, Okla.
Camp Gruber
Due to Camp Gruber's limited maneuver training space on the west range and lack of duded impact area, Oklahoma Army National Guard (OKARNG) combat and support units training at the squad and below level are severely degraded. Some units cannot even perform training due to lack of maneuver space for heavy vehicles and lack of duded impact area for crew live fire certifications. The lack of training range availability at Fort Sill and Camp Chaffee has resulted in delays in training, inability to plan training events and missed training events.
OKARNG is requesting reacquisition of East Range of Camp Gruber consisting of 31,284 acres of training space, including duded impact area of 6,000 acres. OKARNG sought Inhofe's assistance in expanding their training capability at Camp Gruber. In response, Inhofe successfully included language that, upon a determination of the Secretary of the Army, authorizes the transfer of the administrative jurisdiction of East Range of Camp Gruber to the Department of the Army so that the OKARNG may train there permanently.
Transfer of MC-12 Aircraft to the Oklahoma Air National Guard
Sen. Inhofe secured language in the NDAA that authorizes the transfer of up to 13 MC-12 aircraft from the Air Force to the Oklahoma Air National Guard to be flown in support of U.S. Special Operations Command's requirements to train partner nation militaries as well as conduct intelligence, surveillance, and reconnaissance missions.
National Guard and Reserve Component Equipment
Sen. Inhofe supported $1.25 billion for a National Guard and Reserve Equipment account needed to sustain and modernize the National Guard and Reserve Components as an operational reserve and for their domestic support missions.
National Guard Counter Drug Program
Since 1989, the National Guard has worked with law enforcement agencies and community-based organizations to perform interdiction and anti-drug activities. The National Guard Counter Drug Program (NGCDP) operates in 54 states and territories. Approximately 2,500 soldiers and airmen support more than 5,000 agencies at the local, state and federal levels to prevent illicit drugs from being imported, manufactured and distributed in the United States. Inhofe supported continued funding of the National Guard Counter Drug Program and included report language noting the role of the National Guard Counter Drug mission in ensuring the security of the U.S. Homeland and recognizing the benefits of maintaining and supporting the National Guard counterdrug strategy.
Housing for Low-Income or Disabled Veterans (HAVEN Act)
This HUD program will allow non-profit organizations like Rebuilding Together Oklahoma City, to rehabilitate homes of disabled and low-income veterans. This work will revitalize lives and neighborhoods by making homes safe, warm and dry for Oklahoma's older veteran community. Sen. Inhofe supported an amendment by Sen. Reed (D-R.I.) that includes authorization of their HAVEN Act bill, S. 1387, which creates a pilot program to expand this meritorious and noble undertaking by organizations like Rebuilding Together.
Military Construction
Sen. Inhofe supported authorization of $6.3 billion for needed military construction and family housing projects. This includes $111 million for KC-46A construction at Tinker Air Force Base.
Enhancing support for victims of sexual assault
Sen. Inhofe supported the inclusion of 15 provisions to enhance protections for victims of sexual assault by extending eligibility to receive assistance from a special victims' counsel, increasing victims' opportunity to have their views heard when commanders are deciding how alleged offenses are handled, and enhancing victim privacy protections.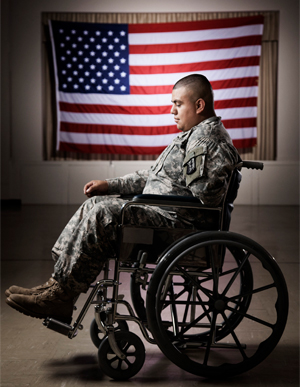 Extending Benefits for Veterans
Sen. Inhofe supported the inclusion of language that extended the Secretary of Veterans Affairs authority to provide benefits to service members with severe illnesses or injuries.
Impact Aid
Sen. Inhofe successfully ensured the inclusion of language that authorizes $25 million in supplemental Impact Aid to local educational agencies with military dependent children. The language also includes an additional $5 million in Impact Aid for schools with military dependent children with severe disabilities.
Reforms in Small Business 8(a) Contracting
U.S. Army Corps of Engineers' current two-phase selection process for design-build contracts results in Small Business Administration Section 8(a) certified firms not being able to be awarded more design-build contracts. This greatly impacts the Corps district offices' ability to service their customers and affects their ability to execute projects to ensure that the DOD is able to receive its mission-critical project. There are a significant number of Oklahoma companies that are currently severely impacted negatively by this Corps directive. Therefore, Inhofe included language that amends the authority for the Secretary concerned to use one-step turn-key selection procedures, and raises the threshold to greater than $4 million when making a determination that inclusion of more than five contractors in the second phase of such solicitations is in the best interests of the federal government.
Commissaries
In response to the proven primary benefit commissaries provide to servicemembers and their families, Inhofe prevented inclusion of a DOD proposal to reduce direct subsidies to commissaries, thereby preserving the full commissary benefit for military families and retirees.
Cyber Security Research
Today's weaponry is highly sophisticated and cyber-enabled, resulting in a distributed, yet connected battlefield. The need for rapid communication and accurate situational awareness requires the warfighter to maintain guarantees that the weaponry is resistant to known cyber-attacks and resilient to unknown cyber-attacks. By accurately understanding and acknowledging the threat landscape of current and future weaponry, better safeguards and threat tolerant mechanisms can be created to adapt to legacy systems and be designed into future systems. The University of Tulsa has a long history of excellence in cyber security research and education, and was designated by the NSA as a Center of Excellence in Information Assurance Education in 2000, in Information Assurance Research in 2009 and in Cyber Operations in 2012. That makes TU one of only four institutions in the U.S. with all three designations. Sen. Inhofe included $80 million in extra funding for basic research initiatives that qualified schools like TU can utilize.
US Naval Sea Cadet Corps
The U.S. Naval Sea Cadet Corps (USNSCC) makes significant contributions in the development of our nation's youth, the recruitment efforts of the U.S. Navy and the awareness of the Navy and its mission. Since its inception in 1958, the USNSCC has trained over 170,000 young Americans. Today it continues to prepare America's youth to become productive and patriotic citizens. The USNSCC also contributes directly to the recruiting mission of the U.S. Navy. Over 11 percent of the most recent class at the U.S. Naval Academy were former cadets, and a total of 626 cadets accessed into military service in 2013. Sen. Inhofe supported increasing funding for USNSCC by $1.1 million.
Professional Credentials to Soldiers
Inhofe supported a provision that would establish a program in DOD that will enable servicemembers to obtain professional civilian credentials that relate to their specific training and skills acquired during their military service so they can be easily transferred into civilian occupations once they leave the military. This program will assist with the expenses connected with a soldier obtaining a professional accreditation, federal occupational license or state-imposed professional license, or professional certification.
Special Use Airspace
Recent guidance from the Office of the Secretary of Defense regarding use of Special Use Airspace (SUA) above military installations like Ft. Sill, Oklahoma is being interpreted by the Army Aeronautical Services Agency to indicate that use of such airspace by the Department of Homeland Security for the Department's Robotic Aircraft for Public Safety (RAPS) program is not allowed. Clarification is needed so that promising government-related programs like RAPS can use the SUA. Therefore, Sen. Inhofe included language directing the Department of Defense (DOD) to issue guidance clarifying policies on the appropriate management of special use airspace within DOD, and on policies governing access by users from outside the DOD to special use airspace managed by DOD within 90 days of enactment of this the NDAA. It also directs the Secretary of Defense to move expeditiously to correct such misunderstandings of guidelines on access to special use airspace, including the authority of local commanders to enter into a memorandum of understanding for the use of special use airspace by any department or agency of the Federal Government, or state governments, to include those engaged in the Federal Aviation Administration test range program, participating in the Robotic Aircraft for Public Safety program, or participating in other activities of a similar nature.
Family Medium Tactical Vehicles
The Family of Medium Tactical Vehicles (FMTV) is a complete series of trucks and trailers, based on a common chassis, that vary by payload. The President's budget request for the base budget included no funding for the FMTV. However, Sen. Inhofe supported the President's Budget request for overseas contingency operations (OCO) of $95.6 million for FMTV procurement. Additionally, Sen. Inhofe supported a $50 million add for FMTV procurement in the base budget.
U.S. Governance over the Internet
Sen. Inhofe included in the NDAA bill a Sense of Congress stating that the Secretary of Defense should advise the President not to transfer the remaining role of the U.S. Government in internet governance unless he is confident that the ".MIL" top-level domain and Internet Protocol address numbers used exclusively by the Department of Defense for national security will remain exclusively used by the Department of Defense.
Facilitate Transition from Military to Civilian Life
Sen. Inhofe included a provision that would require the Secretary of Defense to develop procedures to share specified information on servicemembers who are separating from the military with state veterans agencies in electronic data format as a means of facilitating the transition of members of the military from service to civilian life.
Limitations on Biofuels
Sen. Inhofe included language that requires the Secretary of Defense to submit a business case analysis to the congressional defense committees before entering into a contract for the planning, design, refurbishing or construction of a biofuel refinery.
Alternative fuels
Sen. Inhofe included language that requires the fully-burdened costs of all drop in fuels for operational purposes to be cost-competitive with the fully burdened cost of a traditional fuel.
Combating the Lord's Resistance Army
The Lord's Resistance Army (LRA) has wreaked havoc upon hundreds of thousands for more than two decades throughout central Africa, including murder, rape, and the abduction of thousands of children to serve as child soldiers. In 2009, Sen. Inhofe led the successful congressional effort to pass the Lord's Resistance Army Disarmament and Northern Uganda Recovery Act and in 2014 included additional authorization to continue U.S. support to regional partners combating the LRA.
In this year's bill, Sen. Inhofe included language that expresses the strong support for these efforts and how U.S. assistance has enabled important progress in removing key LRA commanders from the battlefield and increased defections. The language also urges DOD to continue its assistance, specifically the provision of enabling key support, such as mobility and targeted intelligence collection and analysis resources.