Dr. Ben Carson, one of the conservative movements most compelling speakers, has confirmed today for the GOP's Southern Republican Leadership Conference (SRLC) in Oklahoma City in May 2015.
Dr. Ben Carson is the fourth national Republican leader and potential 2016 presidential candidate to announce for the conference behind former-Sen. Rick Santorum, Louisiana Gov. Bobby Jindal and Carly Fiorina.
OKGOP Chairman Dave Weston detailed, "It's an honor to have Dr. Carson join so many of our national leaders for the SRLC. Dr. Carson has emerged as one of the most sought-after voices in the conservative movement and we are delighted he will be joining us in Oklahoma City."
Dr. Carson, an accomplished pediatric brain surgeon, skyrocketed to fame among Republicans after his much-covered speech at the 2011 National Prayer Breakfast in which he publicly criticized Obamacare while President Obama sat two chairs away from him. Since the iconic address, Carson has been urged by national grassroots organizations to run for president.
The 2015 Southern Republican Leadership Conference will be held in Oklahoma City on May 21st – 23rd.
With Oklahoma currently considered the "Energy Capital of America", the event promises to be one of the largest attended political events of the year and will end with a 2016 Presidential Straw Poll. Dozens of invites to governors, congressional leaders and other Republican luminaries have been extended, and additional confirmations are expected in the coming days and weeks.
Weston continued, "Dr. Carson burst onto the national stage in 2011 after calling President Obama to task for the tainted Obamacare legislation. Carson's expertise on health care and the failure of the federal government in that arena has been unparalleled. We look forward to hosting him here in Oklahoma City."
Also featured at the event, the 2010 Republican nominee for U.S Senate in California, Carly Fiorina.  Her track record of leadership both in public life and in the business world are unparalleled as she helped HP steer through the dotcom bubble and other challenges.  Fiorina's prowess has been sought after by Republican Party leaders on multiple topics as she currently serves as Chairman of the American Conservative Union Foundation which hosts the annual CPAC conference.
First elected in 2007, Governor Bobby Jindal's pro-growth policies of less taxation, less regulation and litigation have resulted in Louisiana setting all-time high employment records. His leadership on ethics reform, educational choice and in cutting taxes remains a model throughout the nation of common-sense conservative leadership.
Republican 2012 presidential candidate and runner-up to the nomination, former PA Sen. Rick Santorum has also confirmed to speak at the conference.
OKGOP Chairman Dave Weston detailed, "We are honored to be chosen by the RNC as the host city for the 2015 SRLC.
This year's event will be an opportunity to witness the Republican Party's presidential hopefuls in Oklahoma precisely at the time they begin to make announcements for their candidacy and begin kicking off their campaigns."
Weston continued, "It has been seven years since a similar SRLC was held ahead of a presidential race in which an incumbent president was not running. In fact since Ronald Reagan won the presidency in 1980, a crossroads like this event has only happened three times before: in 1987, 1999 and 2007. And with Republicans in such anticipation of replacing Barack Obama in the White House, we expect attendance by Republicans from around the country to be at an all-time high."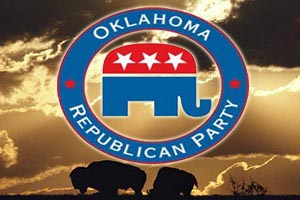 All four speakers top the long list of potential Republican presidential candidates, of which Newt Gingrich recently opined could be longer than any other since 1940. Other speakers may confirm attendance for the OKC event in coming weeks.  Tulsa Today will cover those announcements as they may occur and we look forward to providing extensive coverage of the SRLC in May.